We bought a large pack of fresh blueberries the other day. My daughter loves them plain, in pancakes, with yogurt, etc.  I may end up freezing some in the next couple of days but I took the opportunity to make some blueberry muffins. I started with a recipe in Joy of Cooking
, and combined the recipes for sour cream muffins with blueberry muffins since I had some extra sour cream. You can substitute plain yogurt or buttermilk for sour cream if you want. These came out really good, full of blueberries and with a nice tang.  I think the cinnamon and sugar topping really added a lot.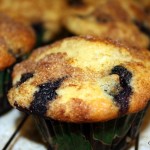 Print Recipe
Sour Cream Blueberry Muffins
Ingredients
2

cups

flour

1

tablespoon

baking powder

1/2

teaspoon

baking soda

1/2

teaspoon

salt

1/4

teaspoon

ground nutmeg

2

large eggs

1

cup

sour cream (or buttermilk or yogurt)

1/3

cup

packed brown sugar

1/2

cup

butter, melted

1

teaspoon

vanilla

1 1/2

cups

fresh or frozen blueberries

sugar and cinnamon
Instructions
Preheat the oven to 400F.

Grease a 12-muffin tin or line with paper liners.

Mix the dry ingredients together in a bowl (flour, baking powder, baking soda, salt and nutmeg).

Mix the eggs, sour cream, sugar, melted butter and vanilla in a small bowl.

Stir the wet and dry ingredients together except for the blueberries. Don't overmix. The batter shouldn't be totally smooth but should be well blended. Then fold in (stir gently) the blueberries.

Divide the batter among the 12 muffin tins. Top with cinnamon sugar.

Bake 20-25 minutes. Test with a toothpick or knife by inserting into the middle of a muffin. It should come out clean when they are done.

Let cool on a wire rack 5 minutes before removing from pan, the continue to cool the muffins on a wire rack.
Save