A few weeks ago London Broils were on sale so I bought two and threw one in the freezer. A few days ago I defrosted it. I was going to do a teriyaki marinade I love, but it makes a ton of marinade, way more than I needed for this one steak. So I looked around and found this Soy-Balsamic Vinegar Marinade for Steak in The Taste of Summer. I marinated the steak about 6 hours and it was delicious!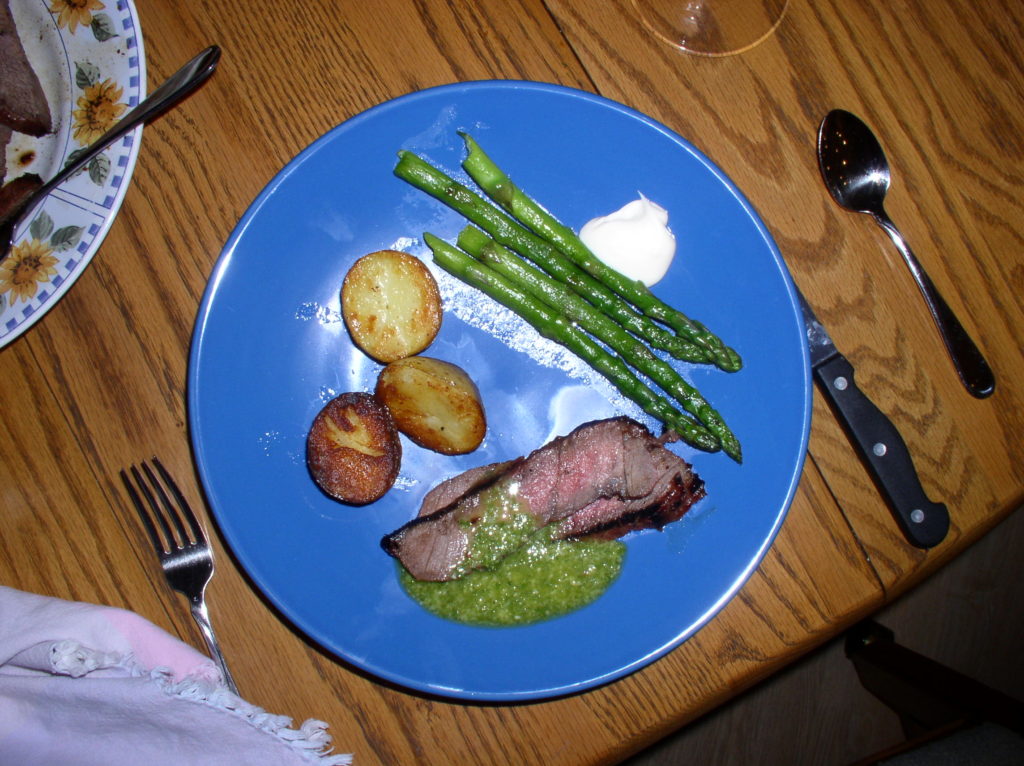 Soy-Balsamic Vinegar Marinade for Steak
Ingredients
2

cloves

garlic

minced

1

Tbs

dried onion

or use fresh shallots or chopped white onion

2

Tbs

soy sauce

1/4

cup

balsamic vinegar

2

Tbs

olive oil

black pepper to taste
Instructions
Mix all the ingredients together and marinade your steak. Grill until done to your desired pinkness--or lack thereof!
I served it with chimichurri sauce since I still have some parsley surviving the wet winter.
The asparagus, alas not yet from the garden, was steamed until soft and then cooked in just a bit of olive oil, served with my old childhood standby of mayonnaise and lemon juice.
Same with the Yukon gold potatoes, which were actually left over from the night before. I had steamed them in the microwave but had lots of leftovers. I just heated them in a bit of olive oil to brown them and I think they were even better than the first night.
Thanks to Jane for the new plates! I now have four colored plates just for food photographs!
Save