You can serve leek and potato soup hot or cold, depending on your weather.  When it's cold you can add some cream and call it Vichyssoise and top with some chopped chives.  If you want hot soup, leave out the cream and garnish with croutons.
I grew leeks again this year and am really enjoying having them available.  You just have to know that they get a lot of dirt into their inner parts while growing so you need to wash them well. You can just slice them and wash them in a colander or you can trim the tops, leaving some of the green parts, and trim the root end off.  Lay the leek down with the root end away from you and slice it in half lengthwise starting about a half inch away from the root so it all holds together. Then turn it a quarter turn and do the same thing again. Then hold it under running water to rinse all the dirt and grit away.  Once it's clean, lay it down on your cutting board and slice into 1/4″ slices or whatever you need.
This recipe is from Essential Pepin: More Than 700 All-Time Favorites from My Life in Food
.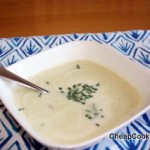 Print Recipe
Vichyssoise: Cold or Hot Leek and Potato Soup
Ingredients
2

Tablespoons

olive oil

1

or 2 leeks, about 10 ounces total, trimmed, split, washed and cut into 1 inch pieces

1

onion, sliced

6

cups

chicken broth

1

and 1/2 pounds of potatoes, peeled and cut in 2 inch chunks

1

teaspoon

salt or to taste

1/2

teaspoon

pepper or to taste
For Hot Soup
3

Tablespoons

butter

croutons

1/4

cup

chervil leaves
For Cold Soup
1

cup

light cream

3

Tablespoons

chopped fresh chives
Instructions
Heat the oil in a large pot and cook the leek and onion until soft, about 5 minutes, stirring periodically.

Add the broth, potatoes, salt and pepper. Bring to a boil, then reduce heat to medium and cook about 30 minutes, until potatoes are soft.

Use an immersion blender to blend the soup until smooth.
For Hot Soup
Stir in butter and serve with croutons and chervil (or chives).
For Cold Soup
After blending, stir in the cream and chill. Serve garnished with chives.
Save