Warm chicken on cool lettuce makes a great combo: Chinese chicken salad, Caesar salad with grilled chicken, etc.   This chicken is rubbed with cumin, coriander, salt and pepper before being cooked. The dressing has balsamic vinegar, sesame oil, peanut oil and sliced scallions and the salad is topped with sliced radishes.   My teenager loved it and claimed the leftovers to take to school for lunch today.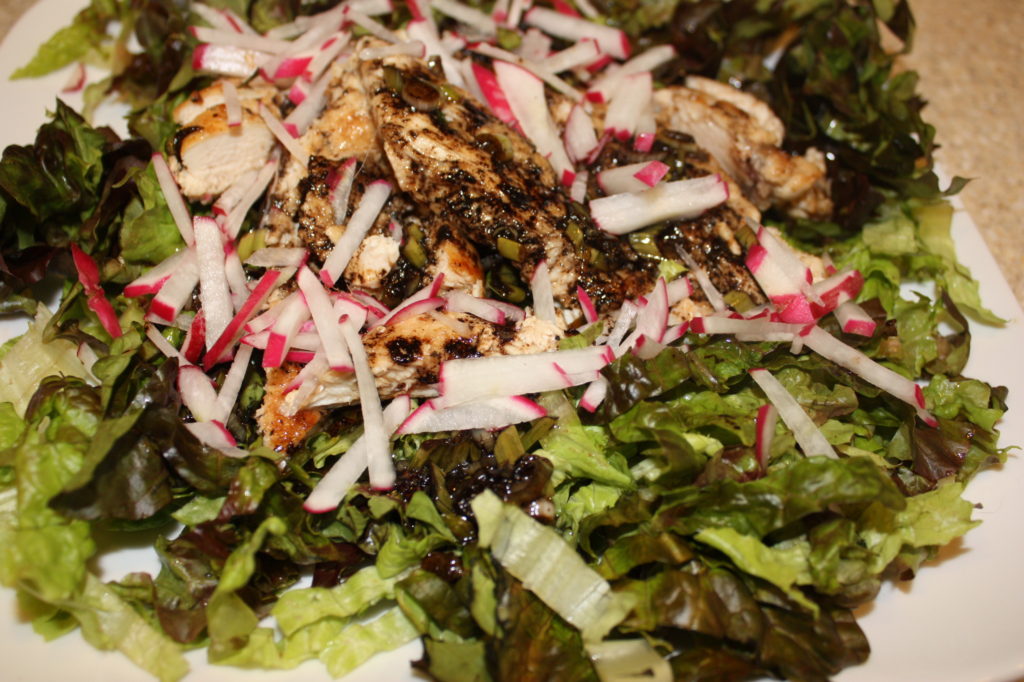 The original recipe, in one of my old favorite cookbooks Let's Eat In Quick and Delicious Weekday Meals
, called for Romaine lettuce, which would add a nice crunch, but it was awfully tasty with the red leaf lettuce I used last night. Radishes were from my garden, and rather than just slice them I used a cut I learned from a Japanese cookbook, slicing them first, then laying the slices on top of each other and cutting into matchsticks so each piece of radish has red tips. I used half the chicken called for but kept the spice rub the same quantity so if you don't like things quite as spicy, you can halve the spice rub or double the chicken.
Warm-Spiced Chicken Salad
Ingredients
Salad
3

cups

shredded lettuce

red leaf, Romaine, iceberg--whatever you have

1/2

cup

sliced or julienned radishes
Chicken
1/2

tsp

ground cumin

1/2

tsp

ground coriander

1/2

tsp

salt

1/4

tsp

black pepper

1/2

pound

boneless skinless chicken breasts

2

Tbs

peanut oil or other vegetable oil
Scallion Dressing
3

Tbs

balsamic vinegar

2

tsp

sesame oil

3

Tbs

peanut oil

1/3

cup

sliced green onions
Instructions
Put the lettuce in a serving bowl.  Hold the radishes aside to add at the end.

Pound the chicken between two pieces of plastic wrap so it's thin and about the same thickness all over. I like thinner pieces of chicken so pounded ours quite thin.

Mix the spices together in a small bowl and then rub all over the chicken.  Heat the oil in a skillet and cook the chicken until done, turning halfway through.  How long it takes to cook will depend on how thin  you pound the chicken. If in doubt, pull a piece out and cut in half. You're going to cut them all into strips to serve anyway.

When the chicken is done, take the pieces out of the skillet but leave the drippings in the pan to make the dressing.  Cut the chicken into strips and put on top of the lettuce.   Put the radish pieces on top or around the chicken. (It's kind of pretty in a ring around the chicken slices.)

After you take the chicken out of the skillet, leave the heat on medium and add all the dressing ingredients. Stir and cook for a minute or two, then pour the warm dressing over the salad and serve.
Save