With the warmer weather, we are coming up on the time when a salad for dinner sounds really good. The combination of warm meat and cool greens with a spicy sweet dressing really hits the spot for me. I've been making my way through older recipes and remaking some so I can take pictures and this Chinese Chicken Salad made it to the table last night. For us, a single chicken breast split in two is about perfect but if you've got larger appetites double the chicken. There's enough dressing here for 2 -3 salads, maybe more, so make up some extra chicken and have a great lunch the next day!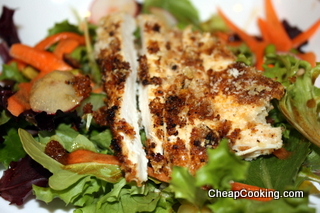 I vary the salad ingredients depending on what I have in the fridge. Last night it was mixed lettuce, arugula, carrot, cucumber and radish. A red onion makes a great addition too.
Chinese Chicken Salad
Ingredients
Dressing:
3

Tbs

soy sauce

1

Tbs

rice vinegar

2

Tbs

sesame oil

1

tsp

sugar

1

Tbs

mustard powder

this is a bit spicy; cut it down if you want mild
Chicken:
1

boneless skinless chicken breast

salt and pepper to taste

1/2

cup

breadcrumbs

1

tsp

ground cumin

1

tsp

chili powder

1-2

Tbs

peanut oil
Salad:
lettuce

diced cucumber

sliced red onion

grated carrots
Instructions
Mix the salad dressing together in a jar and shake it well or use a whisk in a small bowl. Make your salad (or salads) with as much lettuce, cucumber, onion, and carrots as you'd like. Add the dressing and toss.

Sprinkle the chicken breast with salt and pepper, then dip into the breadcrumbs, pressing firmly so they adhere.

Heat the peanut oil over medium high heat. (If you don't have peanut oil, just use canola or olive. The peanut oil adds a nice flavor but is not necessary.) Cook the chicken a few minutes on each side, until crispy and cooked through. Slice it in strips and put on top of your salad.