Reading Tomatilla's post about weeknight cooking and pulling dinner out of a hat must have sparked this… The dinners you create out of what's around, with no clear plan from beginning to end, are often the best dishes.
My original plan was to make a quiche tonight, because I had lots of eggs and was going to do something vegetarian. But then one of the girls asked for macaroni and cheese. That sounded too heavy but I said I'd do pasta and something. I put the pot of water onto boil and went out to the garden. I picked some cherry tomatoes, both red and yellow pear ones, some small yellow crookneck squash, and some basil. I was thinking of a pasta primavera kind of thing, so I heated up some olive oil and chopped half an onion and a garlic clove and started them sauteeing.
While they were cooking, I sliced up the yellow squash and halved the various cherry tomatoes, then sliced up the basil into thin strips. (I know there's a word for that but I cannot think of what it is. Chiffonade maybe?) I also sliced up some baby carrots (from the grocer alas). I added them all to the onions and garlic after a few minutes. They smelled good–and even better after I added some seasoned pepper and salt. As I was pouring a glass of cheap white wine ($2 Chuck: this is CheapCooking after all!), I figured the wine would help the vegetables so added half a glass to the pan.
When I put the wine back in the frig, I spotted the leftover tarragon chicken from last night. I chopped up one of the pieces and added it and some of the leftover sauce to the vegetables. When the pasta was done and drained, I put some on each plate and topped with the leftover vegetable chicken mixture.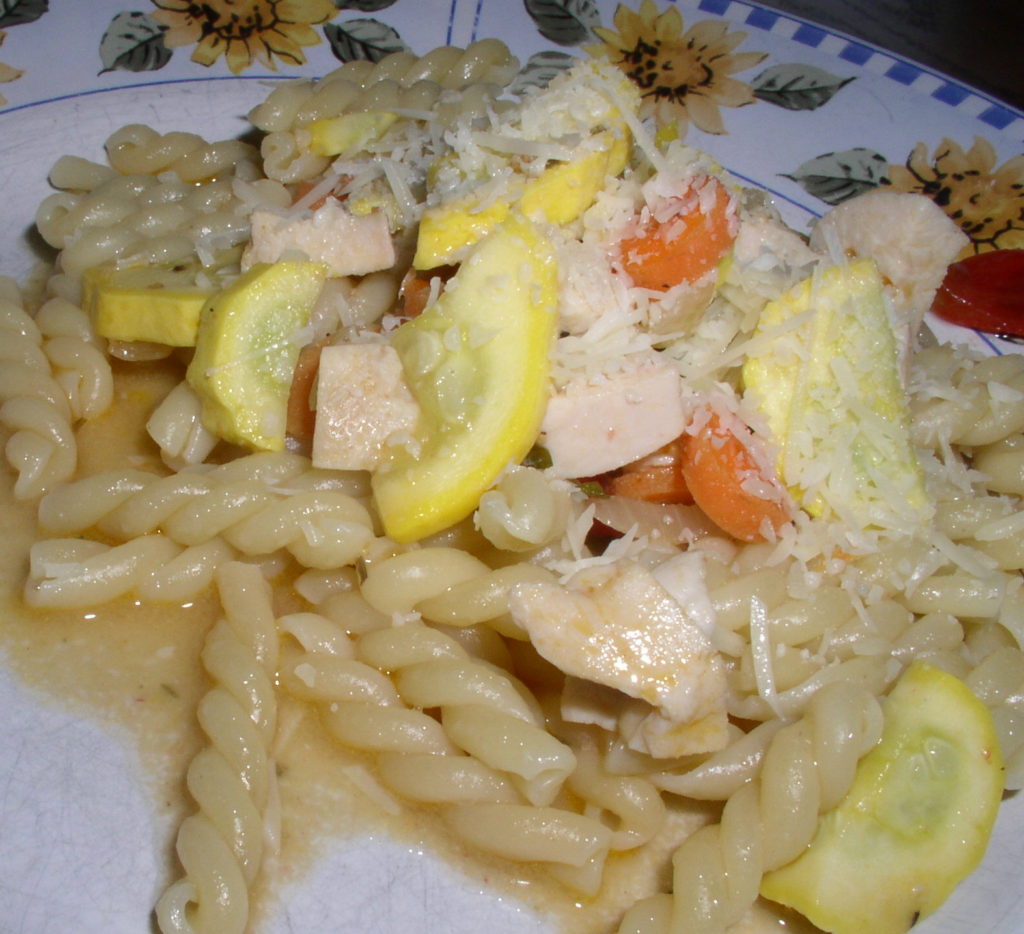 One child had not liked the chicken last night. I think it was the tarragon. Of course, she actually doesn't like chicken these days so it's hard to tell. But she loved this dinner tonight! Maybe it was the fact that the chicken was not the focal point, but merely an accent. The other child had liked the chicken last night and also loved this dinner. Both pronounced it a "repeat"–our highest praise.
I'm afraid I won't be able to fix it again, exactly the same of course. Such is the bittersweet reward of dinners like this. All I can do is make note, as I've done here, and hope that I'll be similarly inspired some other night when everyone's starving and I've not much time to put dinner on the table.