We had friends for dinner the other night. They wanted to bring the main to cook here so I thought I'd make a dessert, which I don't do very often. I've been partial to the taste of molasses and hence gingerbread since I was kid and Chowhound's dish of the month is spice cake so I decided to make gingerbread.
For many years, I've made the recipe in my old copy of 1990 edition of the Fannie Farmer Cookbook (Amazon link). It is wonderful, dense and rich. But yesterday I saw the recipe just below it for a more cake-like gingerbread with sour cream. I had recently bought the large tub of yogurt from Costco so I opted to substitute yogurt for the sour cream. The cake came out great. I just topped it with some dusted powdered sugar last night but it would also be great with whipped cream if you wanted to be more decadent.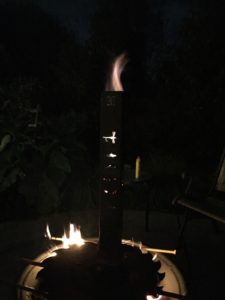 We sat outside after dinner with a fire in the fire pit, testing out a new chimney flume we'd recently made while eating the gingerbread. The idea is to take the smoke up away from the people. We picked up an old flume when we were camping recently, abandoned. Marlo cut a hole in his saw-blade fire cover to hold the flume, then we cut some trout out and a mayfly and added some wire mesh on the bottom so we can add wood chips and create a fire in the flume to light up the cutouts. It is very cool! The pictures don't really do it justice. It's beautiful and functional, taking the smoke up and away.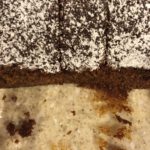 Print Recipe
Sour Cream or Yogurt Gingerbread Cake
Ingredients
1

stick butter

1/4 pound

1

cup

sugar

1/2

cup

molasses

1/2

cup

sour cream or yogurt

2

eggs

1 1/2

cups

flour

1

teaspoon

baking powder

1/2

teaspoon

baking soda

1/2

teaspoon

salt

1 1/2

teaspoons

ginger
Instructions
Preheat the oven to 375.

Grease and flour a 9×9 inch baking pan.

Cream the butter and then add the sugar and cream together.

Add the molasses and sour cream or yogurt and blend well.

In a small bowl, blend the flour, baking powder, baking soda, salt and ginger.

Add the dry ingredients to the wet and blend well, beating until smooth.

Pour the cake batter into the prepared pan and bake 30-40 minutes, until a toothpick comes out clean from the center of the cake.

Let the cake cool at least 5 minutes before removing from the pan or just let it cool completely in the pan.

Sprinkle with powdered sugar before serving if you'd like.