I was thumbing through old magazines as I was decluttering and came upon an Old Cooking Light magazine that had a section on Mennonite recipes. I've never eaten these bierocks anywhere else, but the recipe reminded me of the piroshkis we used to pick up sometimes for dinner in Sonoma, where I grew up.  These were a bit different in flavor, and  my dough here was thicker and there was less filling.  They are good though and made a nice easy lunch to pack for my daughter, when combined with some fruit.
I keep my yeast in the freezer and just keep a small jar in the frig that I replenish from the freezer periodically. This greatly extends the life. And the price of a seemingly endless bag of yeast at the big box store versus buying individual packets makes it well worth trying! If you have a friend to split the bag with, even better!)
Bierocks or Runzas (Meat Pies)
Ingredients
Dough
1/4

cup

sugar

2 1/2

tsp

yeast

1/2

cup

warm water

1/2

cup

milk

1/4

cup

vegetable oil

1/4

tsp

salt

2

eggs, beaten lightly

4

cups

flour
Filling
1

tsp

oil

1/4

cup

diced onion

1/2

pound

ground beef or turkey

2

cups

thinly sliced cabbage

salt and pepper to taste
Instructions
Dough
Whisk together the sugar, yeast and water. Let sit for 5 minutes to "proof" (meaning to check and make sure your yeast is active before you waste any more ingredients!) The yeast, sugar and water should start to bubble just a bit.

Stir in the milk, oil, 1/4 tsp salt and eggs. I use my KitchenAid mixer with a bread hook to mix up bread so I proofed everything in the mixing bowl, then added the other ingredients. Put about 3 cups of the flour into the bowl and turn the mixer on to a low setting. Let the mixer incorporate most of the ingredients together then add the last cup of flour, about 1/4 cup at a time until it pulls away and makes a nice elastic-looking ball. Keep the mixer on for 5 more minutes or so. (You can of course do this by hand.)

Llet the dough rise for about an hour. If your house is warm, you can do this on the counter. If your house is a bit cool, turn your oven onto warm for a few minutes, then turn it off. Rub a bit of oil in the bottom of a bowl and turn the dough into that bowl, flipping it around and turning it so that all sides are coated very lightly with oil. Cover the bowl with a clean kitchen towel and let rise until doubled, about an hour.
Filling
In a skillet, heat the oil then add the onion and ground meat. Cook, stirring, until the onion is softened and the meat is no longer pink. Add the cabbage and cook a few more minutes until the cabbage wilts. Salt and pepper the meat mix and set aside to cool, covered.
Assembling
When the dough has been rising an hour or so, check that it is ready by poking two fingers into it. If the indentations from your fingers remain in the dough, it's ready!  Punch the dough down, cover and let rest 5 minutes. Meanwhile, cover a cutting board or counter with a light dusting of flour.

Divide the dough in half and roll one half into a roughly 10 x 7 inch rectangle. Cut this into six squares and place about 1/4 cup of the meat and cabbage mix into the middle of each square. Pull two opposite corners together and pinch together, then do the same with the other two corners. Place seam side down onto a baking sheet lined with parchment paper.  Repeat with the other half of the dough.

Preheat the oven to 375 while you cover the bierocks again and let rise about 20 minutes.

Uncover and bake about 15 minutes. Cool a bit on wire racks then serve.
Notes
If you want to freeze them, let them cool completely and wrap each bierock individually in foil, then drop them all into a freezer bag.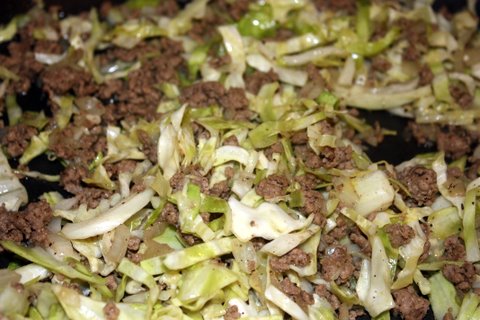 Save