I'm just back from a week camping up near Cassel, CA. We had a great time! I'm learning to fly fish, which is fun. The first time I stepped into Hat Creek I stepped into a hole that was rather deeper than I expected–but I did not go down! There was much more water than usual so wading across was a bit more perilous than at other times, apparently. I did not catch any trout, but Marlo did, as well as some other folks we knew. I didn't really expect to, to be honest. It was fun just being there amidst all that beauty and with someone who is so observant and knows so much.
Once when we were out in Hat Creek, the current got pretty strong when I was about waist-high and made me a bit nervous. It's such a different feeling, to feel the strength of the water pushing against you. It's neat to be in the water and part of it but can be a bit unsettling, too. But I remembered that when I used to practice martial arts, we would stand in a "horse" position, with knees bent. It makes you much more stable. So I bent my knees a bit and it felt much better. I also learned which parts of the creek had a more gentle current and where there were high spots to stand on.
Cooking and camping are new again to me so coming up with camping dinner ideas was a new challenge. Prior to our trip last fall, I hadn't been camping since I was in my twenties! Next time I would do more prep ahead of time but things came out good! Last fall Marlo cooked everything over the campfire. (That saw blade keeps the pans from getting all sooty!) Don't you love that old kettle?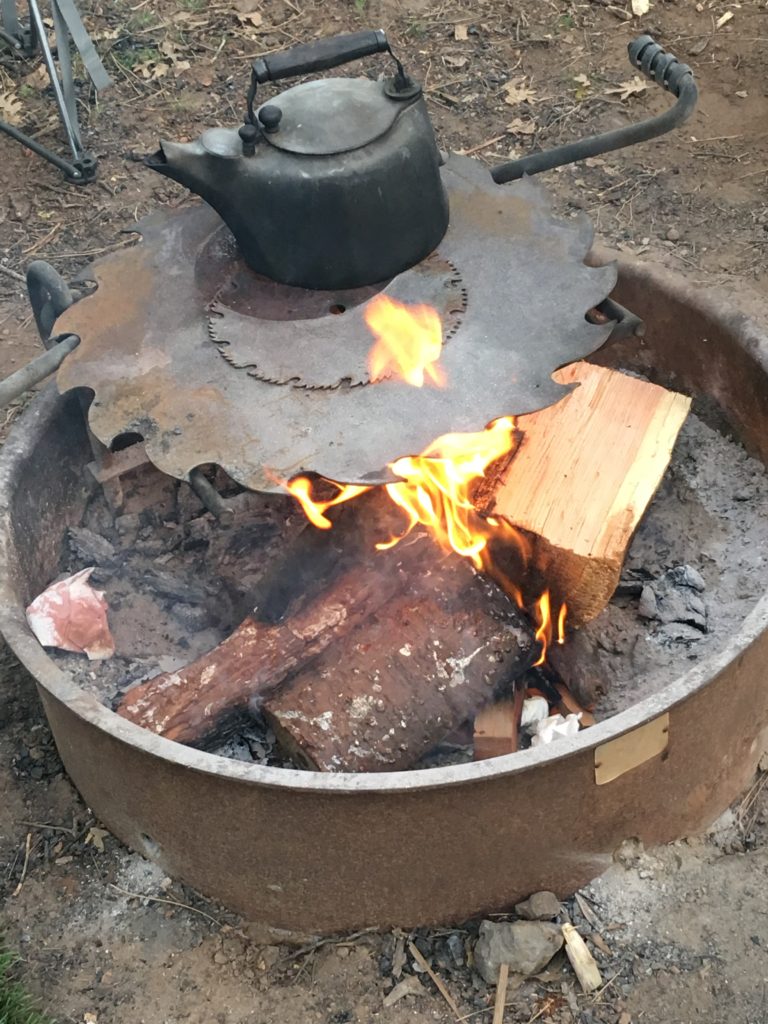 Camping Dinner Ideas
This time he brought a propane stove and we cooked on that. The first night I made a pizza. I had made the garlic white sauce and pizza dough ahead of time. I cooked some sliced peppers and onions in one skillet and cooked the pizza dough in another. I turned the dough over after cooking one side, then added the sauce and toppings. It came out quite good!
The second night I made chicken fajitas. At home I had sliced up chicken thighs and froze them in a fajita marinade. At camp, I cooked up some sliced peppers and onions with the chicken and heated up tortillas in a skillet. We topped these with grated cheese and sliced avocados.
I had planned on making crepes for dessert one night but ended up making them for breakfast the third morning since we hadn't gotten to it for dessert and I thought it should be cooked. Again, I had mixed the crepe better up at home. I put it in a quart jar and put that into a Ziploc bag in the cooler in case it leaked.
We switched off cooking with another couple. They made shrimp tacos and chipotle slaw one night. They'd made the slaw at home and marinated the shrimp so just needed to cook the shrimp the day they arrived (a few days after we did). Another night they cooked steaks and sweet potatoes and made a big salad. Oh, and the s'mores! They "made us" taste test a few different s'mores with peanut butter cups and coconut cookies! Mmmm.
What are your favorite camping meals? Share any tips you have! I'll be going camping again soon.
Save
Save