In the quest for using up food leftover from the holidays, I'm targeting a large container of mushrooms I bought. I made a small portion of chicken tetrazzini for dinner, trying not to create more than one portion of leftovers! I had some cooked chicken leftover from making this fantastic "cure-all chicken soup" with spicy chicken broth, bean sprouts and rice. (Note that I didn't have the kombu it calls for and the soup was still really good. Simmering the broth with ginger, onion, garlic, cloves, star anise and cinnamon made it delicious!)
So I had some leftover cooked chicken and a lot of mushrooms and I felt like pasta so chicken tetrazzini it was! Apparently this dish was named after an opera singer, Luisa Tetrazzini. I've made this with leftover turkey many times.
My measurements could be a little off so follow your instincts (and let me know in the comments!). I was definitely winging it. But the gist of it is easy:
Cook some sliced mushrooms in a bit of butter and set aside.
Cook your pasta.
Make a white sauce with half chicken broth and half milk and stir in a little grated Parmesan.
Stir the mushrooms and shredded cooked chicken into the white sauce.
Top with some bread crumbs and cheese, then bake half an hour.
When I made it last night, I quickly blanched some spinach in the hot water before I cooked the linguini. I squeezed it dry, chopped it, and stirred it into the white sauce. Other times, I've added cooked broccoli.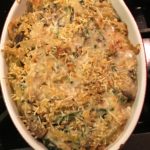 Print Recipe
Chicken Tetrazzini
This is a delicious way to use up leftover cooked chicken or turkey. You could also add other cooked vegetables. Peas or broccoli would be nice.
Ingredients
Mushrooms
1

Tbs

butter

1/4

pound

mushrooms, sliced

salt to taste
White Sauce
2

Tbs

butter

2

Tbs

flour

1/2

cup

chicken stock

1/2

cup

milk

pinch

nutmeg
Tetrazzini
1/4

pound

linguini

1

cup

shredded cooked chicken

1/4

cup

grated Parmesan, divided

2

Tbs

bread crumbs
Instructions
Mushrooms
Heat the butter and oil in a small skillet.

Add the sliced mushrooms and cook about 5 minutes, salting to taste. Remove to a bowl and set aside.
White Sauce and Pasta
Bring a pot of water to boil. Break the linguini noodles in half and cook them while you make the sauce.

In the same skillet you cooked the mushrooms in, heat the butter until melted, then stir in the flour. Use a whisk or a flat bottomed wooden utensil to incorporate the flour and butter, then cook, stirring, another minute or two, until it's light brown.

Slowly whisk in the chicken broth, making sure to eliminate any lumps. Bring to a simmer and whisk in the milk, then add the nutmeg. Cook about 5 minutes, stirring frequently, until the sauce thickens.

Take the pan off the heat and stir in the grated cheese, mushrooms, and chicken. As soon as the pasta is done, drain it and stir it into the sauce.

Butter a small baking dish and pour the tetrazzini in.

Stir together the bread crumbs and the rest of the cheese and sprinkle over the sauce.

Bake at 350 for 30 minutes.