We had my niece and her husband down for dinner tonight and my daughter requested French Dip sandwiches in the crockpot (slow cooker).  I first made this recipe on a Gingerbread House Decorating Day in 2002 according to my notes in the Fix-It and Forget-It Cookbook: 700 Great Slow Cooker Recipes
cookbook!  I like noting down who I fixed things for.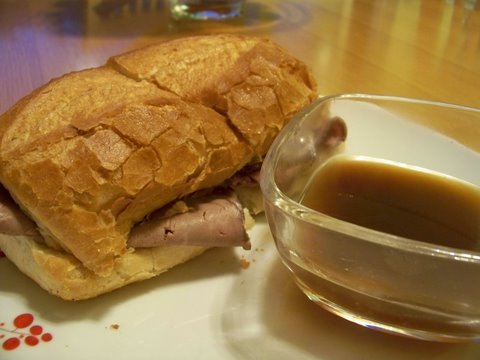 That year I think we had only 6 or so of us here decorating gingerbread houses. A slow cooker lunch was perfect and after all that nibbling on candy while decorating, these sandwiches were perfect. They were just as good tonight.  I made two salads to go with the sandwiches,a green salad and an orange and red onion and kalamata olive salad.
French Dip Sandwiches in the Crockpot (Slow Cooker)
Ingredients
3

pound

rump or bottom roast

1/2

cup

soy sauce

1

tsp

beef bouillon

1

bay leaf

1

tsp

thyme

1

tsp

garlic powder

3-4

peppercorns

water
Instructions
Trim the roast of excess fat and put in the slow cooker. Add all the other ingredients, then add enough water to almost cover the roast and cook until done. Timing varies depending on how new/old your slow cooker is. I started this on high at lunch and turned it down to low about 4pm. When you're ready to eat, remove the meat and slice thinly across the grain.

I like to spread a bit of butter on open French rolls and toast them under the broiler, then add the sliced meat and a slice of provolone cheese and slip them back under the broiler until the cheese melts.

Serve with the au jus/broth in small bowls to dip the sandwiches in.
Save
Save