Green beans can be boring–but not these! I made them twice in a row and ate leftovers at lunch. I used some haricots verts, those skinny French green beans, that I bought at Costco. I was concerned that some would go to waste but that concern has disappeared with this recipe. The first time I made them, my eldest was here for dinner and she asked if she could have all the leftover beans for her lunch the next day. The second time I made them, I was alone and purposely made enough to have leftovers for myself the next day.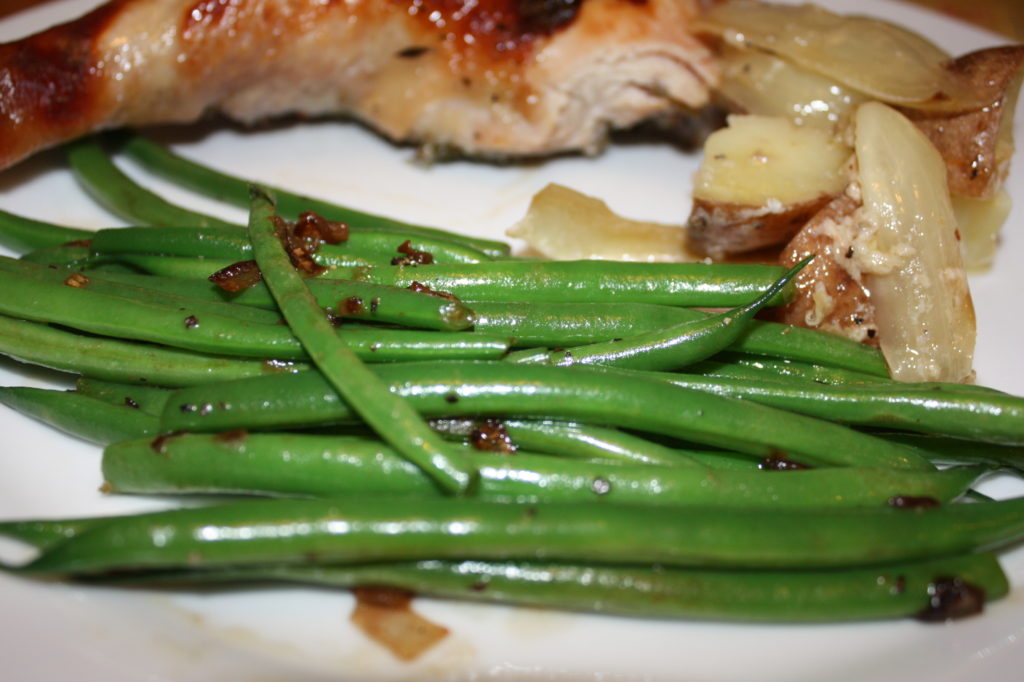 The recipe is from Barefoot Contessa Family Style, which I picked up at the local Half Price Books. I've made two recipes from it so far and both recipes I made twice in a row. The other one was for her Buffalo chicken wings.  I halved the recipe for the green beans so adjusted the amounts a little but I'm giving her amounts here, which she says feeds 6.
Green Beans with Shallots
Ingredients
1

pound

French string beans

haricots verts

2

Tablespoons

butter

1

Tablespoon

olive oil

2

large shallots, cut in a large dice

1/2

teaspoon

kosher salt

plus more for the cooking water

1/2

teaspoon

ground pepper or to taste
Instructions
Trim the ends off the beans if they're not already cleaned.

Bring a pot of salted water to a boil and blanch the beans for 1 1/2 minutes. (If you're using regular green beans, blanch for 3 minutes.) Drain right away and put the beans in a bowl of ice water. You can do this part ahead of time.

Heat the butter and oil in a large skillet and saute the diced shallots over medium heat for 5-10 minutes, stirring periodically. You want them lightly browned.

Drain the beans and add them back to the pan along with the salt and pepper. Stir and heat just until the beans are hot, then serve.
By the way, I just found this handy chart for converting kosher salt to table salt (and others). I now keep kosher salt in a Mason jar in a cupboard by the stove. I have table salt (sea salt) in a dish on the counter by the stove, since that's what I usually use.
Save
Save
Save
Save
Save
Save
Save