This pork tenderloin is sliced, pounded, then marinated in a marinade that reminded me of Vietnamese flavors. They were in Cooking Light magazine as part of a "cook once, eat three times" article. I just used one pork tenderloin rather than two but kept the marinade the same as it was a large tenderloin. We had the pork with salad one night and then I made them into sandwiches with their pickled slaw. That was good but next time I might go for my banh mi style pickled daikon and carrots rather than the cabbage. I would also pound the meat thinner.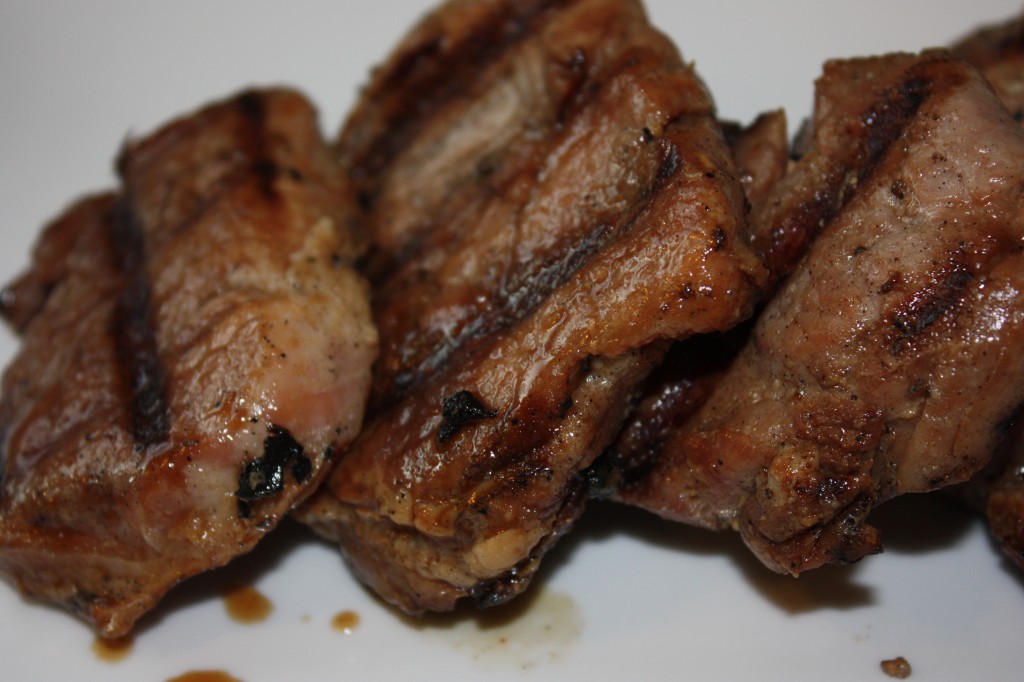 Marinated Grilled Pork Tenderloin
Here is a Vietnamese-inspired marinade for pork tenderloin with soy sauce, maple syrup, fish sauce and fresh ginger.
Ingredients
2 1-

pound

pork tenderloins

2

Tablespoons

oil

2

Tablespoons

maple syrup

1

Tablespoon

brown sugar

2

teaspoons

soy sauce, divided

2

teaspoons

fish sauce

1

teaspoon

grated peeled fresh ginger
Instructions
Combine all the marinade ingredients and blend.

Cut each tenderloin into 12 slices, then pound each to a consistent thickness. The original recipe said 1/2″ but I would go thinner next time.

Add the sliced pork to the marinade and marinate at least 30 minutes.

Preheat your grill.

Sprinkle salt and pepper on the pork slices and cook until done.
The second night you can turn your leftovers into a pork sandwich with a pickled slaw or make the Vietnamese pickled daikon and carrots. Slice a French roll or French bread in half lengthwise, spread a bit of mayonnaise on the bottom, add a little Maggi sauce if you have some, top that with thin slices of pork and top that with the slaw or daikon and carrots topped with some fresh cilantro. The recipe below made way more than enough for four sandwiches.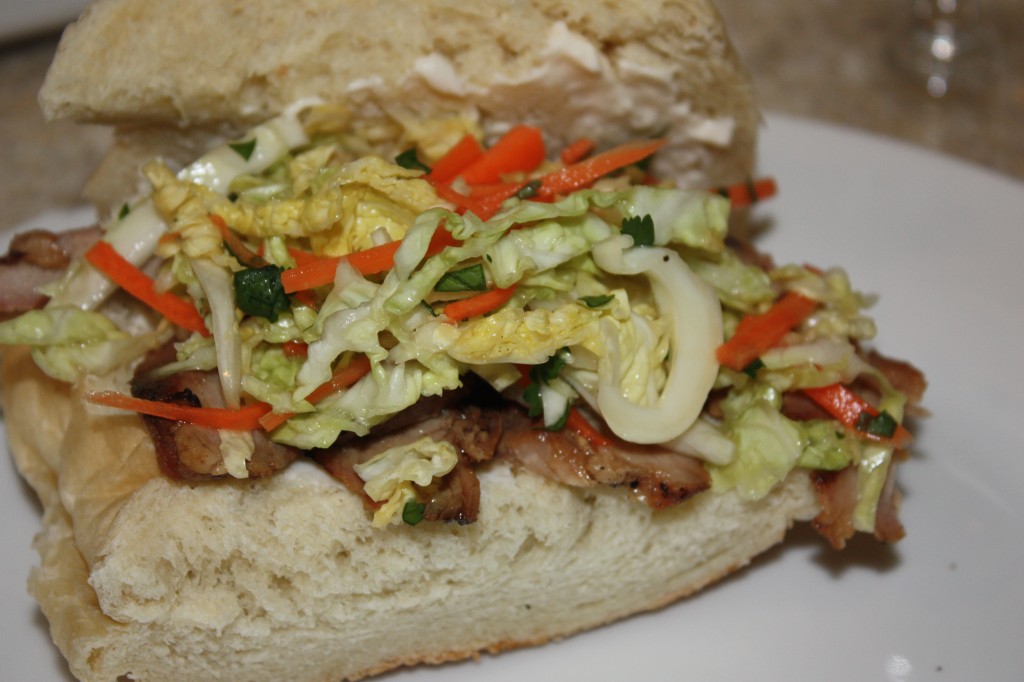 Pickled Slaw
The quick pickled cabbage and carrot slaw makes an excellent topping for pork sandwiches.
Ingredients
1/4

cup

rice vinegar

1/4

cup

water

1

Tablespoon

sugar

3

cups

shredded Napa cabbage

1/2

matchstick-cut carrots

1/4

cup

chopped cilantro
Instructions
Heat the rice vinegar, water and sugar in a small saucepan until the sugar dissolves. Remove from the heat.

Stir in the cabbage and carrots and let sit for 30 minutes.

Serve as a salad or in a sandwich.