This Overnight Pizza Dough from Jim Lahey is my new favorite for a planned pizza night. I know I've said that before!  I've got several recipes that are good for starting the afternoon you want to make pizza. They take an hour or two.  This one from My Pizza: The Easy No-Knead Way to Make Spectacular Pizza at Home takes 18 hours! It's got a lovely chewy texture from that long rise and a slightly fermented taste (think sourdough). His method of preheating the stone to 500 and then switching the broiler on for ten minutes gives you a hotter than normal oven and I really like the char the dough gets.
Jim Lahey's Pizza Dough
Ingredients
3 3/4

cups

all purpose flour

500 grams

1/4

teaspoon

active dry yeast

1 gram

2

teaspoons

fine sea salt

16 grams

1 1/2

cups

lukewarm water

350 grams
Instructions
Stir the flour, salt and yeast together in a bowl, then add the water and use a wood spoon or you hands to mix the dough. Cover the bowl with plastic wrap and let it rise until more than doubled. (In the book he says 18 hours but it depends on the temperature among other things.) I've been mixing it up the evening before I want to make it and letting it sit overnight and into the afternoon.

Flour a large cutting board or other work surface and turn the dough out onto it. Divide the dough into 4 pieces.

Pull each of the four sides into the center and form a round ball. The dough should not be sticky at this point. If it is, dust with a bit more flour. Set the balls seam side down. You can let these rise for a while or refrigerate up to 3 days (making sure you give them a few hours at room temperature before you start making pizza).

Preheat the oven at 500F with a pizza stone in it for at least 30 minutes. Just before you're ready to bake the pizzas, switch to the broiler.

Stretch the dough into roughly roundish pizza shapes, about 10-12 inches, on a floured wooden pizza peel. Don't stress if they're not round.

Top as you like, These bake quickly so you may want to parboil some vegetables.

Slide the pizza into the oven with quick jerks and bake 3 1/2 - 5 minutes.

Use the peel to take the pizza out of the oven when the cheese is bubbly and the crust is slightly charred.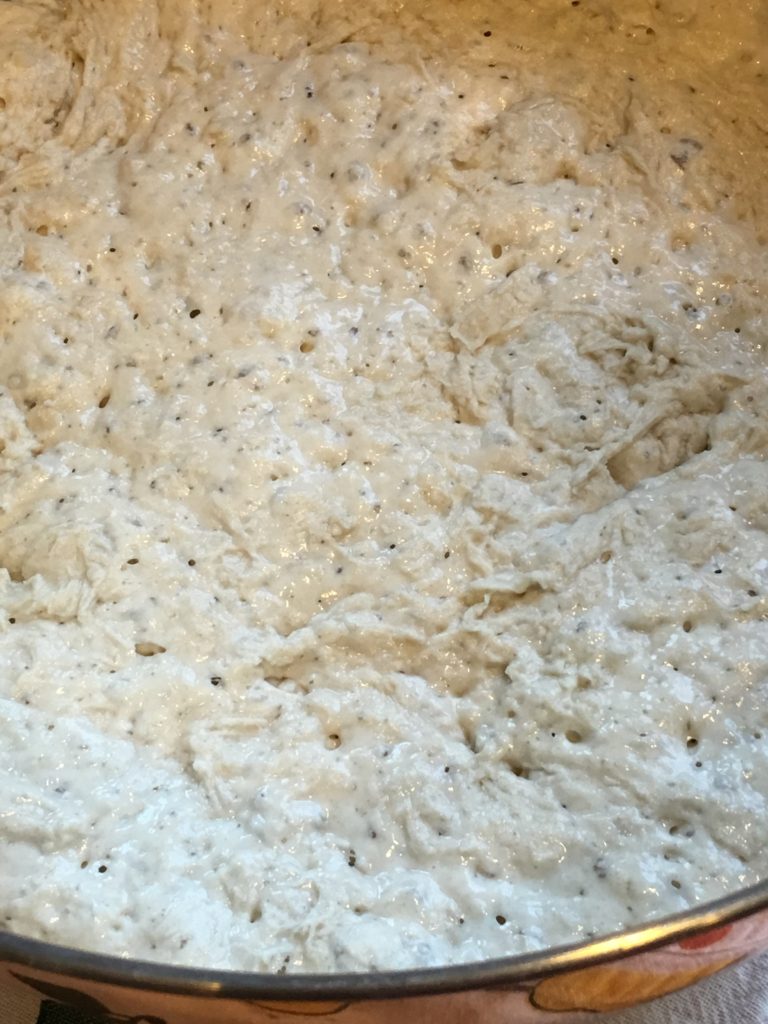 I put both weight and volume measurements here, as he did, because I know not everyone has a scale. You'll learn what the dough should feel like and can add a little more water or a little more flour as needed.
I like to use parchment paper on my wooden pizza peel because I still have a hard time not making a mess sliding the pizza onto the stone without it. But the broiler makes this a really hot oven. If you do use parchment paper, I would trim the edges so you don't have bits hanging out as parchment paper is usually only rated to 500F.
I've made some fantastic pizzas with this dough. Some were my usual tomato sauce and mixed vegetables or pepperoni. But I also made some of Lahey's more unique pizzas from this book. My favorite so far has been the broccoli rabe with a white sauce. I added some cooked hot Italian sausage to it. I've made this three times already!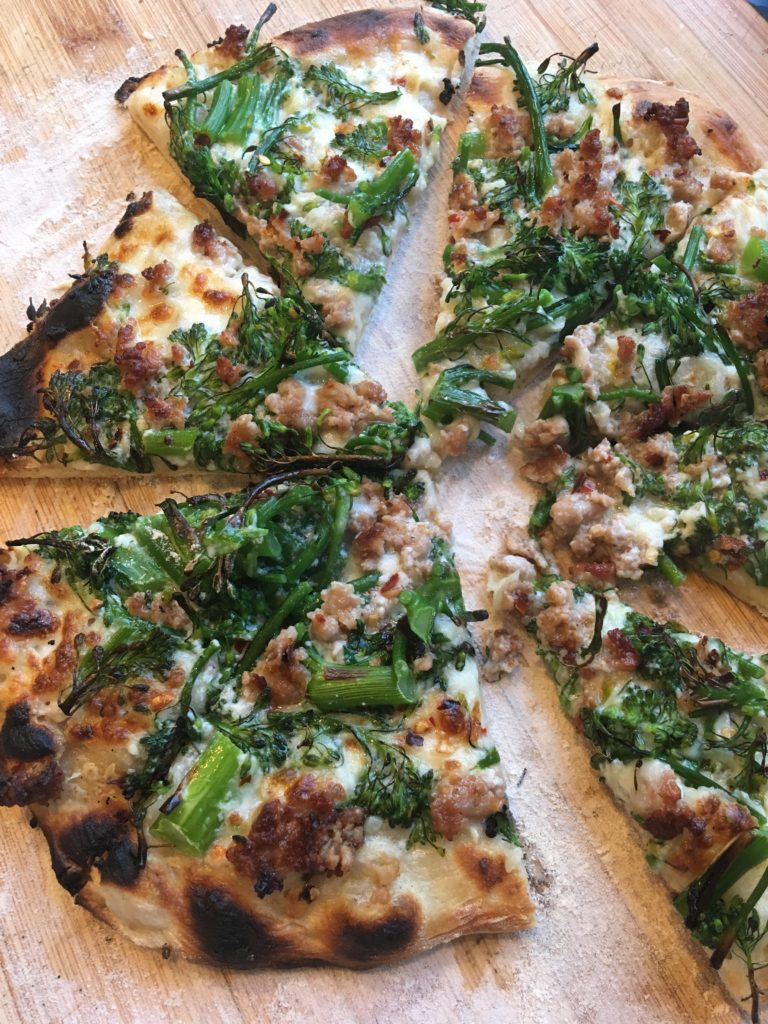 I also made a roast cauliflower pizza because I had some cauliflower to use up. I don't know that I would have tried this otherwise but this was so good! You roast the cauliflower in a pan on the pizza stone before assembling the pizza. This was also on a white sauce. There was also mozzarella and Parmesan cheese, chopped green olives, garlic, bread crumbs and fresh parsley.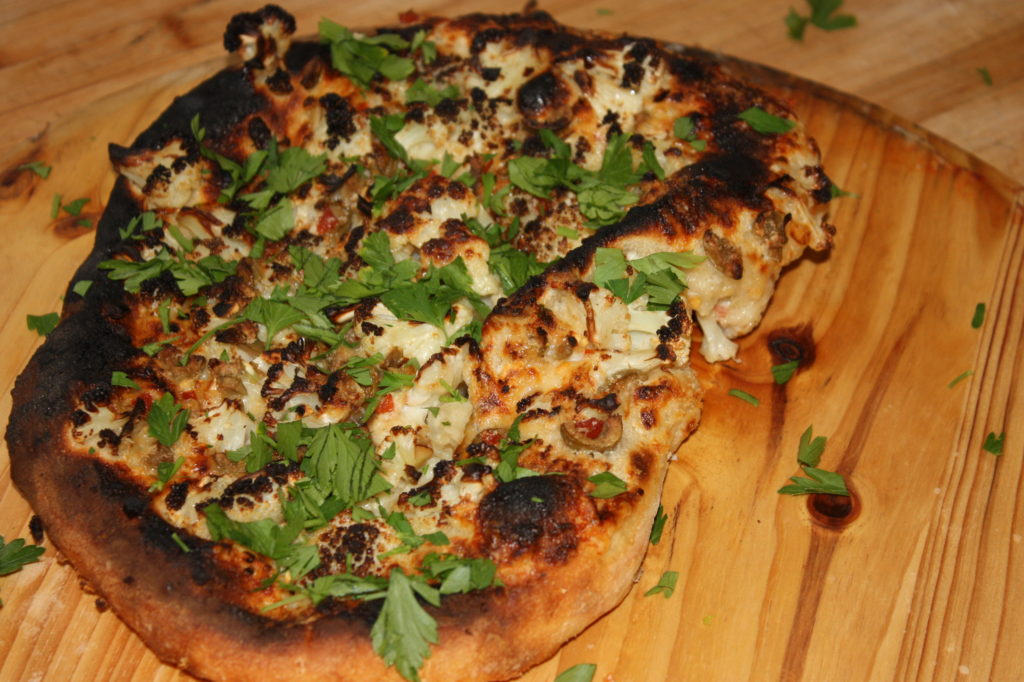 The third one I made was a corn and tomato pizza, with fresh corn and cherry tomatoes and fresh basil.  I've made this twice.