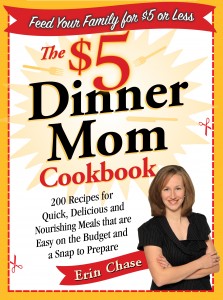 Updated to add: The drawing is over and we have a winner. Thanks!  But go check out Erin's web site and/or buy the book and/or get your library to buy a copy. Lots of good frugal recipes.

I was so excited to receive a copy of this cookbook to review: The $5 Dinner Mom Cookbook: 200 Recipes for Quick, Delicious, and Nourishing Meals That Are Easy on the Budget and a Snap to Prepare
I've been following Erin Chase's blog 5 Dollar Dinners for some time. I track my overall food budget, and used to track it even more carefully than I do today. That's why I started CheapCooking.com. But I love the idea of setting a "do not exceed goal" for dinner, the highest cost meal for most of us.   She set that price based on what she felt were reasonable goals for a healthy dinner for her family of four where she lives, basically $1.25 per person for dinner, and her overall goal of less than $300/month for her family of 4.
Obviously, your own goals may vary, depending on where you live and how many you are feeding. But the idea of setting a goal for dinner is a great one, as I think most of us spend more on dinner than other meals. And having an overall monthly target lets you vary a bit week to week, as special occasions arise. Certain months you may stock up a bit more based on sales and other months, hopefully, come in a bit under.
Living in the San Francisco bay area, I find myself drooling over her sale prices. But don't let your own circumstances derail the idea. Track your prices. Stock up on sale prices.  Use coupons where they make sense. Have a great repertoire of recipes that you can use for healthy balanced meals.  Where I live, there are no stores that double coupons, for example, but I bet you can cut your grocery bills substantially by following her guidelines, even without using coupons, and you will find some great recipes to add to your regular favorites.
Just the day after I received this book to review (meaning I didn't pay for it, but that did NOT influence my review here, I would have bought it regardless so was thrilled to get a review copy! And if I get a review copy of a book I don't like, I generally just don't review it…), my youngest asked for spaghetti and meatballs for dinner.  We had two extras for dinner that night if I recall, and I still ended up with leftovers.
I had everything I needed in my freezer and pantry. I have a great meatball recipe handed down from my Italian ex-MIL but opted to follow Chase's recipe so I could do a good review. The major differences would be fresh garlic over garlic powder  (I grow my own garlic so count it as nearly free at this point since you replant it every year but did cook this up with garlic powder just to test the recipe) and if I want to splurge I use a mix of ground pork, ground veal and ground beef. You can sometimes find this at reasonable prices but I use pure ground beef when I cannot and used that the night I made these.) I think the key is good Parmesan, which is cheap on a per serving basis since you need very little for maximum flavor.
I also make my own breadcrumbs whenever we have bread going stale, so always have a stash in the freezer.
Italian Meatballs
Ingredients
1

pound

ground beef

1/2

cup

breadcrumbs

1

tsp

garlic powder

1

tsp

Italian seasoning

or use some basil and oregano

1/4

cup

Parmesan cheese

splurge here I say!

1

egg

2

Tbs

olive oil
Instructions
Mix all the ingredients together and form into 1 inch balls. You can use a small cookie scoop if you prefer but I find the meatballs stay together better if you "pack" them a bit with your hands. I use my KitchenAid 5-qt. Stand Mixer to mix stuff like this. but then form the balls with my hands.

Preheat the oven to 350 while you're forming the meatballs (and perhaps making the sauce!).

Heat a skillet with 2 Tbs olive oil and brown the meatballs over medium heat, turning periodically to brown evenly for a few minutes. Then put the meatballs in a lightly greased baking dish and bake at 350 for 15-20  minutes.

Serve with your favorite spaghetti or marina sauce and 1 pound cooked spaghetti.
This will serve far more than 4 in my house, but we love leftover spaghetti and meatballs for lunches or leftover spaghetti and sauce in meatball sandwiches as well.  (Just toast some bread or rolls, preferably with some garlic and butter, then load up some meatballs and sauce, top with some provolone or mozzarella cheese and broil a few minutes.)
If you can grow any or all of the herbs and garlic that cuts the cost significantly and improves the flavor.
Marinara Sauce
Ingredients
1 28-

ounce

can of crushed or pureed tomatoes

2

cloves

of garlic

crushed

1

Tbs

dried basil

1

Tbs

dried oregano

1

Tbs

dried rosemary

1

Tbs

olive oil

salt and pepper to taste
Instructions
I grow rosemary year round so used 1 tsp fresh chopped rosemary instead.

Combine everything and simmer at least 15 minutes, longer is good too. Just stir now and then and leave it at a very low simmer.

Store the sauce for a week in the refrigerator or 6 months in the freezer.
Review Recap
The girls love my normal meatballs and sauce recipe but declared this really good, as did our guests.  I do think meatballs are better with some ground pork and/or veal but that might knock it out of your budget. For pure ground beef, these are delicious! And I think if you had 1/3 each of ground beef, pork and veal, you'd have a killer recipe.
I  play around with marinara sauce so much I don't know that I have a "normal" but this is a great one. You might think about adding some fennel if you're into a stronger Italian flavor but that' s purely a matter of what you're used to.
I've gotten pretty good at reading recipes over the last 18 years of cooking and can say that most of these recipes read well, even if I haven't cooked them all. Some are very similar to some of my old favorite recipes and others are new but sound great.
I served this meal with some garlic bread and a Caesar salad. I did use a store-bought dressing but made the croutons from a leftover hot dog bun (coat with some butter and sauteed in a bit of  butter with some herbs).
Updated to add: If you'd like a chance to win a copy of the cookbook, which just hit the stores today, post a comment. I'll randomly draw a winner on December 29.


If you don't win, you can buy this from Amazon by following this link: The $5 Dinner Mom Cookbook: 200 Recipes for Quick, Delicious, and Nourishing Meals That Are Easy on the Budget and a Snap to Prepare
or look for it in your local bookstore or ask your library to buy a copy.