These came from the latest issue of Cooking Light, one of the few magazines I subscribe to off and on.  The latest issue has a bunch of taco recipes and this one caught my eye tonight.  Yowza!  Really good.
I made an avocado salsa rather than just using smashed avocado and diced tomatoes.
I also used mozzarella cheese in the cream sauce rather than queso fresco because that's what I had. I would have used Monterey Jack if I didn't have that. Don't be a slave to a recipe. Use what you have around if it's similar. In this case I thought "mild white cheese."
Note that Cooking Light called them Blackened Shrimp Tacos but I didn't really find these too spicy. I can take a bit of heat but not too much so put myself in the middle-of-the-road category in terms of spice tolerance.  If you're nervous, you could just skip the seasoning and cook the shrimp without any spice at all or cook half with some spice and half without if your kids (or a partner) are more sensitive.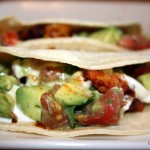 Print Recipe
Spicy Shrimp Tacos
Ingredients
For the sauce
2

Tbs

buttermilk

2

Tbs

mayonnaise

1

clove

garlic, minced

1/2

tsp

white vinegar

1/2

cup

shredded mild white cheese
For the shrimp
2

tsp

paprika

1 1/2

tsp

ground cumin

3/4

tsp

garlic powder

1/2

tsp

dried oregano

1/4

tsp

salt

1/4

tsp

dried thyme

1/4

tsp

ground red pepper

1

pound

medium shrimp, peeled and deveined
For the salsa
1

avocado, diced

1 to

tomato, diced

1

Tbs

chopped cilantro

1/4

tsp

salt

1/2 - 1

tsp

lime juice
Instructions
Mix up the sauce ingredients and set aside in a small serving bowl.

Mix up the spices for the shrimp then toss the shrimp in with the spices.

Mix the avocado and tomato salsa together and set aside in a small serving bowl.

Heat a skillet over medium heat (I used a cast iron skillet). Coat with a small bit of oil, then cook the shrimp about 2 minutes per side, until cooked through. Remove to a small serving bowl.

Wipe the skillet and then heat the corn tortillas until warmed through, one at a time.

Serve everyone 1 or 2 corn tortillas and let them build their own tacos.