On of my nephews is vegetarian, has been for years. I'm hoping he'll come join us for dinner one evening (nudge nudge Taylor!), plus the girls are interested in eating more "consciously", so I bought a new cookbook.This is basically from Better Than Peanut Butter & Jelly: Quick Vegetarian Meals Your Kids Will Love! Revised Edition
. We're not vegetarian (hence the last post on pulled pork!) but we do like vegetarian meals. And we're trying to eat more "consciously" (although I wonder that you never see free-range pig advertised? Is that because they're ALL free range? I somehow doubt it.)
Anyway, I bought this cookbook on a whim, although I think it' s geared towards younger children (start 'em young!). That said, both my carnivore-tending teenagers liked this "except for the peppers." I know they don't like cooked peppers. In fact, I cut the peppers in half, and served the other half of the red pepper sliced and raw, which they happily ate. They did like the tofu, carrots, pineapple, and sauce.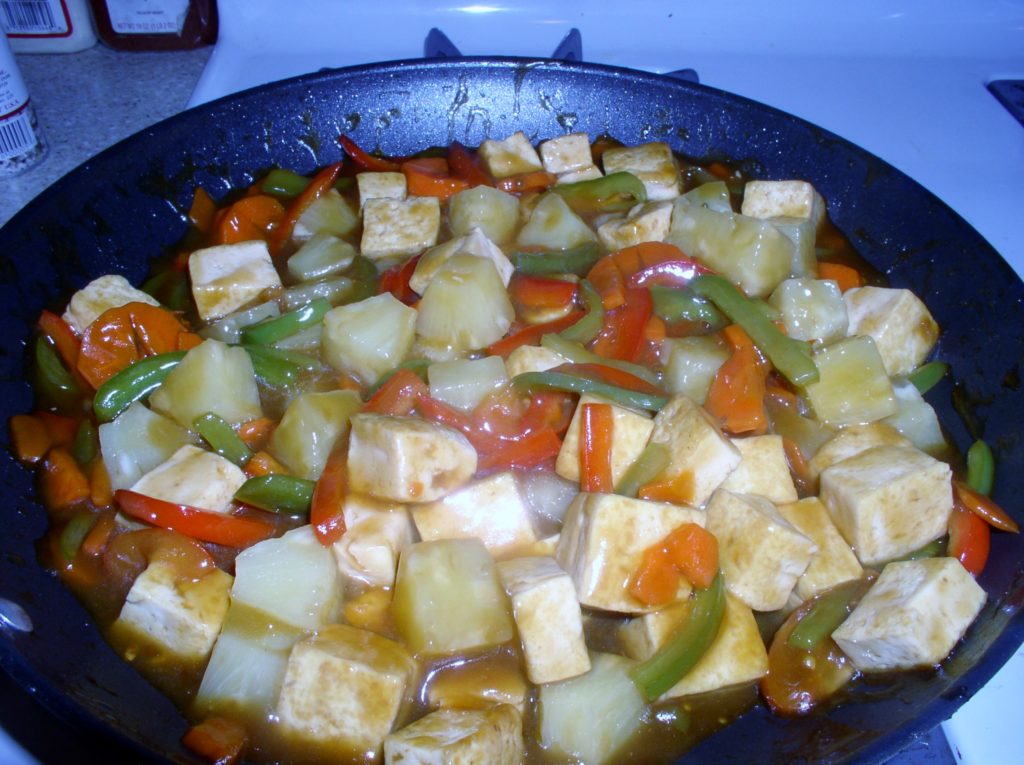 Sweet and Sour Tofu
Ingredients
1 15.5

ounce

can pineapple chunks

reserve the juice

1/4

cup

soy sauce

1/4

cup

white wine vinegar

rice vinegar would probably work too

1

tomato

cut into wedges

2 1/2

Tbs

cornstarch mixed into 1/4 cup water

1

tsp

ground ginger

1

10.5 ounce

package extra firm tofu

drained and cut into 1" cubes

2

Tbs

sesame oil

1

green pepper

I used just 1/2, cut into thin strips about 2" long

1

red pepper

I saved half to serve raw cut into thin strips

1

carrot

cut in half lengthwise, then cut into thin half circles
Instructions
Mix pineapple juice, soy sauce, vinegar, tomato, cornstarch mix, and ginger into a small bowl.

Heat oil in a large skillet or wok over medium high heat. (Note: original recipe says over low to medium heat but we like our fried tofu with browned sides!) Stir fry the tofu for 10 minutes or so, until lightly browned on all sides.

Add the peppers and carrots and stir fry another few minutes.

Stir in the soy sauce mixture and cook about 5 more minutes, until thickened. Add the pineapple chunks and heat through.
h.
I served this with a bean sprout salad. Like I said, my kids were happy to eat the tofu, carrots, and pineapple but would rather eat their peppers raw. I liked it as noted.