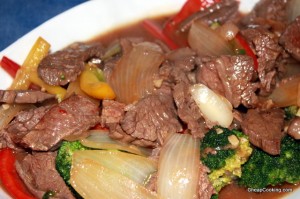 I like a good stir fry for using up odds and ends of vegetables.  In this case, I didn't really have enough broccoli to make just a broccoli and beef stir fry, which was what I initially thought of cooking, but I added in some sliced red and yellow peppers and there was plenty.  I also used a sweet and sour kind of flavoring for this Beef, Broccoli & Peppers Stir Fry. It came out great and leftovers packed up nicely for a lunch for my daughter.
The flavor sauce and stir fry ideas come from How to Cook Without a Book: Recipes and Techniques Every Cook Should Know by Heart
, (affiliate link) which I've given both my daughters when they moved into places with kitchens.   It's a great book for learning basic techniques which you can then easily modify. In this case, once you learn how to do a stir-fry you can use different proteins and vegetables and flavor sauces. She has four to get you started plus some good ideas of different protein/vegetables combinations.
I used half a flank steak for this last night but you can use whatever kind of beef you have, or substitute chicken or pork or tofu.
Beef, Broccoli & Peppers Stir Fry
Ingredients
3

tablespoons

peanut oil

divided

1

pound

beef

cut into bite-sized pieces

1

tablespoon

soy sauce

1

tablespoon

dry sherry

1

onion

cut into large slices

1

pound

mix of broccoli and sliced peppers

1

tablespoon

minced garlic

1

tablespoon

minced ginger
Thickener
2

tablespoons

cornstarch

3

tablespoons

chicken broth

plus maybe more
Sweet and Sour Flavoring
1/4

cup

chicken broth

2

tablespoons

soy sauce

1

tablespoons

red wine vinegar

1

tablespoon

brown sugar

1/2

teaspoon

red pepper flakes
Instructions
Slice the beef and put in a bowl with the soy sauce and sherry and set aside to marinate while you prep everything else.

Slice the onions and peppers and the broccoli into bite-sized pieces.

Mince the garlic and ginger and set aside.

Mix the flavoring sauce in one small dish and the cornstarch and broth in another small dish and set aside until needed.

Heat a large skillet or wok over medium high heat. Add 1 tablespoon of the peanut oil and let it get hot. Cook the beef, half at a time, until just cooked through and remove to a bowl. (You can use your serving bowl as the meet is cooked.) This should take about 2-3 minutes, stirring the whole time.

Add the rest of the oil (2 tablespoons) into the pan. Add the onion and stir-fry about 1 minute.

Add the garlic and ginger and stir, then add the broccoli and stir-fry 1-2 minutes.

Add the peppers and stir-fry until all the vegetables are crisp-tender, cooked but still with some crunch, about 1-2 minutes.

Return the beef to the pan.

Stir in the flavoring mix, making sure all the pieces are coated.

Stir the cornstarch and broth mix and add to the pan, stirring, 1-2 minutes. If it's too thick you can add a couple more spoonfuls of broth.

Serve over steamed rice.
Save