Last weekend we had a potluck dinner here with a dozen folks. We were all going to see a show and gathered here to eat dinner first. Our friends brought some awesome food to share: a gorgeous fruit platter with a cream cheese dip, a Greek dip, a potato salad that had some jalepeno relish in addition to pickle relish and a broccoli salad. I'm probably forgetting something as well… I grilled a couple of tri tips and we feasted, then had a couple of fruit pies and an ice cream pie for dessert. What a treat!
The broccoli salad had all the right notes for me: crunchy, salty, sweet. It reminded me of a broccoli and cauliflower salad I used to make that I'd forgotten about. That one has bacon and Cheddar cheese, which I think would also go well in this one. My friends who brought this said the recipe they had also called for red onion but they left it out.
I made this for a birthday dinner last night, increasing the amount of broccoli to dressing and using the sunflower seeds and dried sweetened cranberries. I ate the rest for lunch today and it held up well.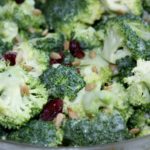 Print Recipe
Broccoli Salad
With sweet, salty and crunchy, this broccoli salad is a crowd pleaser.
Ingredients
1

cup

mayonnaise

2

Tbs

cider vinegar

1/2

cup

sugar

3-4

cups

chopped broccoli florets or a mix of cauliflower and broccoli

a handful of dried sweetened cranberries

a sprinkling of sunflower seeds
Instructions
Mix the mayonnaise, vinegar and sugar together in a large bowl, whisking until the sugar has dissolved.

Add the broccoli and stir to combine, then stir in the cranberries and sunflower seeds.