I've made bubble and squeak several times but I've always made it by cooking the cabbage and potatoes separately or using leftover mashed potatoes. As I was thumbing through Joy of Cooking (Amazon link) the other night I saw that they cook the potatoes and cabbage (and green onions) together in one pot, then mash them up and add butter, milk, salt and pepper.  Why did I never think of that?!
You can just eat the colcannon that way, of course, but I think to call it bubble and squeak you form it into patties and panfry to get a bit of a crust on the outer edges. I like the texture that way although it's good without frying too.  If you are going to fry it, use a bit less milk than you normally would for mashed potatoes so they hold their shape. I made mine a bit too soft so they fell apart a bit when I turned them. They still tasted great though!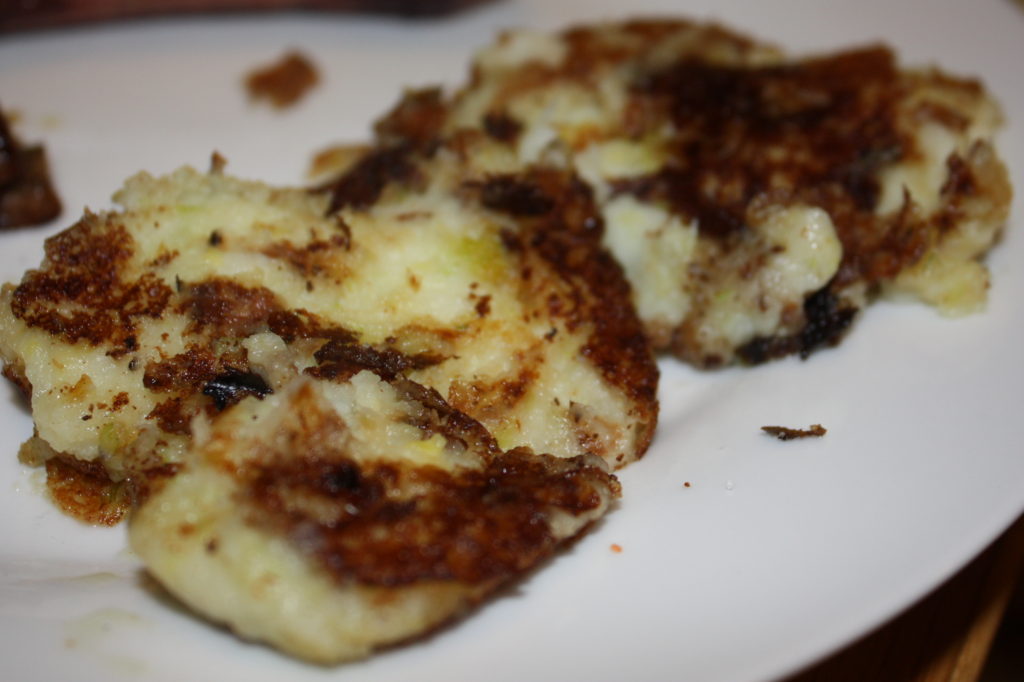 Bubble and Squeak – Mashed Potatoes with Cabbage and Onions
Ingredients
2

pounds

potatoes, peeled and cut in 2″ chunks

1

bunch green onions, sliced

1

small green cabbage

about 1 pound, cored and cut in 1″ pieces

1/2

cup

milk or half and half

1/4

cup

butter

salt and pepper to taste
Instructions
Put the potato pieces in a saucepan and just cover them with water. Put the green onions and cabbage on top of the potatoes.

Bring to a boil, then cover and the lower the heat to a simmer. Cook about 20 minutes, until the potatoes are soft and cabbage are cooked through and soft.

Drain and mash in the butter, milk, salt and pepper.

In a skillet, heat a bit of oil. Drop a large spoonful of the potato and cabbage mixture in the pan and flatten it slightly. Cook until lightly browned on one side, then flip over and cook the other side.