This quick spaghetti with tomatoes and capers also has fresh basil, garlic and bread crumbs. I've made pasta with breadcrumbs before and loved the texture of the crunchy breadcrumbs with the soft pasta.  Adding tomatoes and capers adds another layer of flavor. As an aside, I always have fresh bread crumbs in the freezer. They're easy to make from stale bread.
Put a big pot of salted water on to boil, then start the tomatoes cooking after you toast the bread crumbs. When the spaghetti is done, lift it out of the water with tongs and move it right into the skillet with the tomatoes and capers.
I made this with homegrown tomatoes but I'd bet that in the winter, store bought Roma tomatoes would work well. I made this to serve 2 light appetites, using just about 1/4 pound of pasta.  The recipe is from Lidia's Italy in America (Amazon link), one of my favorite cookbooks. I think I've made almost every pasta recipe in the book!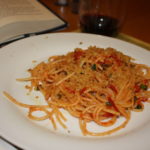 Print Recipe
Quick Spaghetti with Tomatoes and Capers
Ingredients
1/4

teaspoon

salt plus more for the pasta water

2

Tablespoons

olive oil, divided

1/4

cup

bread crumbs

2

cloves

garlic, sliced

1/2

pound

ripe tomatoes, cut into 1/2″ pieces

2

Tablespoons

capers, drained

pinch

of red pepper flakes

1/4

pound

spaghetti or other pasta

5

basil leaves, thinly sliced

3

Tablespoons

grated Parmesan cheese or to taste
Instructions
Bring a large pot of water to boil and add salt.

Meanwhile, heat a bit of olive oil in a skillet and add the bread crumbs, stirring until they're crisp, 3-4 minutes. Scoop them out onto a paper towel to drain.

Add a bit more olive oil and then cook the garlic slices in it. When they're sizzling, add the tomatoes, capers, salt and red papper flakes. Simmer, stirring periodically, until the tomatoes break apart and teh sauce reduces, about 8-10 minutes.

Cook the pasta according to package directions. It usually works out great if you start the pasta cooking while you cook the tomatoes. When the spaghetti is done, lift it out of the water and into the skillet with the tomato sauce.

Stir the spaghetti and sauce together, then sprinkle with the basil and pour a bit more olive oil in and stir everything together.

Remove the pan from the heat and add the cheese, tossing once more. DIsh up the spaghetti and sprinkle the toasted bread crumbs on top before serving.