Cooking for one or two without wasting food can be challenge. You'll need to either learn to pare down recipes or use your freezer so you don't get bored eating the same thing too many times in a row.
Use your Freezer to Save Half for Another Day
Prepare a standard recipe for a casserole, like lasagna, but make it in two 8×8 (or even smaller) pans rather than one 9×13. Line one with foil before preparing, then freeze. Once it's frozen, take it out of your pan (the foil makes it easy) and slip into a freezer bag to cook another day.
Recipes like chicken pot pie can be treated the same way. Just freeze half the filling and make a smaller pot pie.
Use up your Leftovers with Soup
Take bits of leftover vegetables and create a soup container in your freezer. When you have 3-4 cups, depending on how much soup you want to make, make a nice vegetable soup. You can do this with more than plain vegetables. One of the best soups I ever made included some leftover scalloped potatoes. Another great one had leftover stuffing in it. There are all kinds of creative ways to use up leftovers for soup or other dishes.
Wrap up Some Burritos
Use shredded cooked chicken or beef or leftover pork carnitas or chili verde to make burritos. Put about 1/4 cup of meat, some sauteed onions and peppers if you like, and shredded cheese in the middle of flour tortillas. Wrap up burrito style, then wrap in foil. Place all the burritos in one gallon sized freezer bag and freeze. Bake frozen at 350 for 45 minutes to an hour or thaw and bake 25-30 minutes. Or make a burrito bowl with the leftover meat.
Salad with Meat
I like to use leftover cooked meat to make a good main dish salad. This works for ground beef taco meat, grilled chicken, fish. Making a good chicken taco salad or ground beef taco salad does not make me feel like I'm eating leftovers.
Make Mini Pizzas
Instead of making a large pizza, you can easily just shape your dough into smaller personal pizzas. Freeze the leftover pizza dough for another night. Or make your pizza on English muffins or pita bread and freeze the extra sauce in 1/2 cup portions.
Don't Forget the Side Dishes
Make extra twice baked potatoes and freeze the extras for another day.
Make a loaf of garlic bread, then slice into portions that suit your needs. Wrap each portion in foil then place in freezer bags. Just thaw and broil for some quick and tasty garlic bread.
Take Advantage of Ice Cube Trays
Did you need just a few tablespoons of tomato paste? Freeze the rest by putting spoonfuls onto waxed paper and then freezing or putting a tablespoon in the containers of an ice cube tray then freezing. Pop them out when frozen and put in a freezer bag or container.
Use your ice cube trays to freeze small portions of lemon juice, chicken broth, and so forth.
Use Muffin Tins for Portions
Muffin tins are another useful asset. Mix up a meatloaf recipe but package it into muffin tins rather than a loaf pan. You can freeze the meatloaf uncooked in the tins if you want to bake it fresh or cook it, remove it from the tins and freeze the cooked "muffins."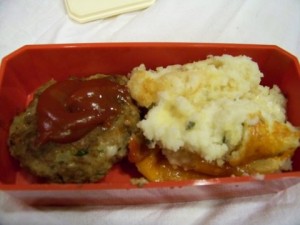 Freeze leftover stuffing in muffin tins, then reheat as needed.
Dealing with Larger Packages
Repackage things like hamburger buns or rolls into small portions and freeze. (If you just throw the whole package in the freezer they usually stick together.)
Separate bacon slices into a portion that works for you and freeze. Or cook up a whole pound and freeze the cooked bacon.
Recipes for Two
And finally, here are some specific recipes that are smaller portioned. Some will make leftovers, like the beef stew, but a manageable portion of leftovers!
Save
Save