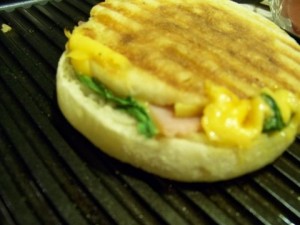 I made some macaroni and cheese tonight for dinner but felt like we needed a bit more as well, plus I was bringing dinner over to my broken-leg neighbor. I decided on a small panini and brought him some vegetable soup from last night as well.  I had some ham and cheddar cheese as the base for the Panini and added some apple slices, arugula and a dab of maple syrup as well. I made them on English muffins as I just wanted something small.
Each sandwich consisted of:
one English muffin
1 slice of ham, folded over
a few very thin slices of apple
thin slices of Cheddar cheese
a small puddle of maple syrup
a few leaves of arugula
Layer all this in the English muffin while you're preheating the grill. Butter the outsides of the English muffin and cook in the Panini grill until warmed through and the cheese is melted.
It came out quite nice! I really liked the crunch of the apple and the arugula kept it from being overly sweet somehow.
Save