For our early Thanksgiving, I made this tricolor salad with shallots, radicchio, endive, arugula, oranges and kalamata olives. It provided a much needed bright and fresh flavor to counter all the carb-y goodness of turkey, gravy, mashed potatoes and creamed onions. It was also beautiful to look at!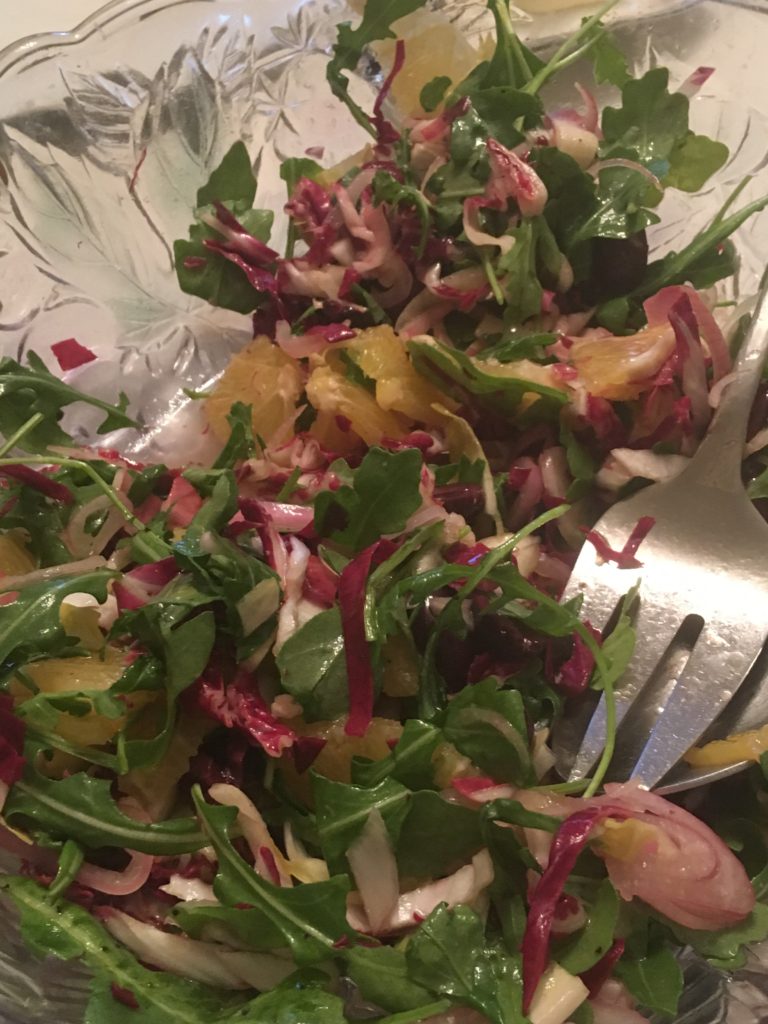 I also made this fun turkey yard art from some scrap fence boards and other scrap wood. The head came out  a little vulture-like so I'll revise it next year.  The copper wattle was cool though!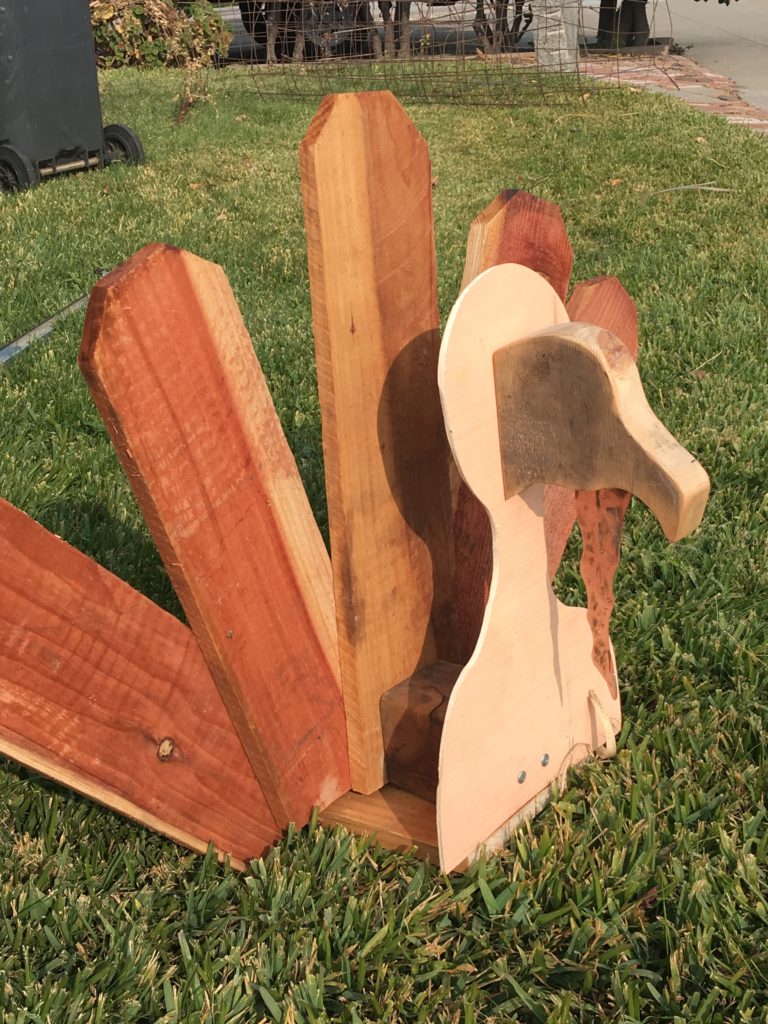 On Thanksgiving day, Marlo and I went to his brother's house for the big meal. And it was another fantastic meal with grilled turkey and ham, green beans, mashed potatoes and gravy, and stuffing. I saw the menu and thought this salad would again be perfect so I made it twice in one week! And it was just as good the second time!
I made a few changes from the recipe. For one, I sliced the olives in half lengthwise. I also sliced the oranges in half because putting a whole orange slice in your mouth is a bit, uh, challenging. And I like just being able to dig my fork in and get a little bit of everything in a bite without having to cut anything up.
Oh, Ina also has you slowly pour the oil in while whisking. I just dump everything in a jar and shake. I'm probably not being "pro" enough. 😉
I got everything ready to go at my house, putting all the salad ingredients together in a large bowl, keeping the shallots separate. I mixed up the dressing in an old mustard jar (my favorite vessel for dressings!), lay the serving pieces inside and covered it all with plastic wrap for the journey. This worked great and let me dress the salad just before we ate.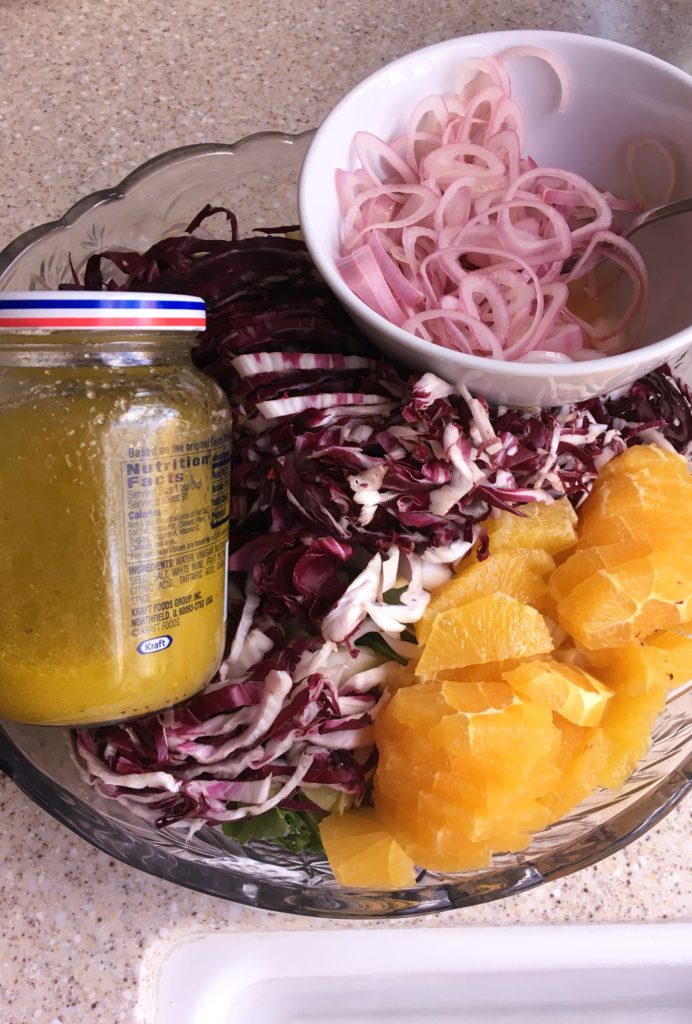 The salad is in her newest book, Cook Like a Pro (Amazon link), which I picked up at Costco. This is the first recipe I've tried and it is such a winner I'm eager to try more.
To peel the oranges, cut slices off the top and bottom and stand on end, then slice down with a knife to remove the peel AND the white pith. That's her "pro" tip for this recipe. They did come out much cleaner that way and were very pretty.
Ina Garten's Tri Color Salad with Oranges
This is a great winter salad.
Ingredients
Quick marinated shallots
1

cup

shallots, thinly sliced

2

Tbs

apple cider vinegar
Salad
1

large radicchio, halved lengthwise, cored and sliced into thin shreds

about 12 ounces

1

endive, halved lengthwise, cored and sliced into 1/2" slices

about 8 ounces

3

oz

baby arugula

3

Naval oranges, peeled with a knife to remove most of the pith, sliced in half crosswise, then sliced into thin circles

2/3

cup

pitted Kalamata olives, cut in half lengthwise
Dressing
1/2

cup

lemon juice

1/2

tsp

Dijon mustard

1/2

cup

olive oil

1.5

tsp

kosher salt

1/2

tsp

pepper
Instructions
Put the shallots in a small bowl and toss with the vinegar. Set aside for ten minutes or so while you prep the other vegetables.

Add the radicchio, endive, arugula, oranges and olives to a large serving bowl.

Lift the shallots from the vinegar with a fork or slotted spoon and add to the salad. Toss everything together.

In a glass jar, add all the dressing ingredients and shake until well combined. Pour half the vinaigrette over the salad and toss to combine. Add just enough more to lightly moisten. You'll probably have a bit left over. Taste and add more salt and/or pepper if needed.