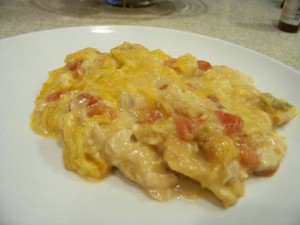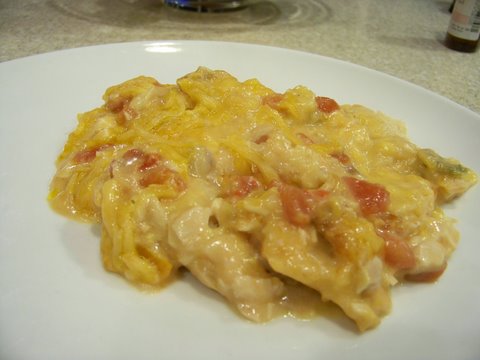 There are lots of stories about where this King Ranch Chicken Casserole comes from but let me say it is a delicious casserole!  I even make it when I don't have leftover chicken to use up.
Tonight I bought a whole chicken, on sale and with a 30% off coupon so about $4 for a 4 pound chicken.  I poached the chicken in water with  a carrot, some celery, thyme, an onion, peppercorns and salt for an hour. Once the chicken was done, I pulled it out and let it cool a bit, so I could pull the meat off. When I did, I put all the bones back into the pot with the veggies and cooked it another couple of hours, then let it cool, strained it, and now have about 2.5 quarts of lovely chicken broth plus all the cooked chicken.
This casserole doesn't look pretty. Does any casserole look pretty?  But it is delicious!  I usually halve this for us, but since my youngest is packing lunches these days and LOVES this, I made a full recipe, figuring it would feed us both a few lunches.
Tips for Freezing
I usually either halve the recipe or make it in two 9×9 pans and freeze half. If you want to do that, line one of the pans with foil, then do the layers, then freeze. When it's frozen solid, lift out the foil layer and freeze it in a freezer bag. When you're ready to cook, just pop it into your 9×9 pan and it will fit perfectly!  Defrost and then bake, or bake from frozen but allow more time.