I was thrilled to find  some red lentils in our local Sprouts grocery store. The store is a bit out of my way but I try to pop in when I'm over that way to see what looks good. I ended up making these Red Lentils with Ginger from Madhur Jaffrey.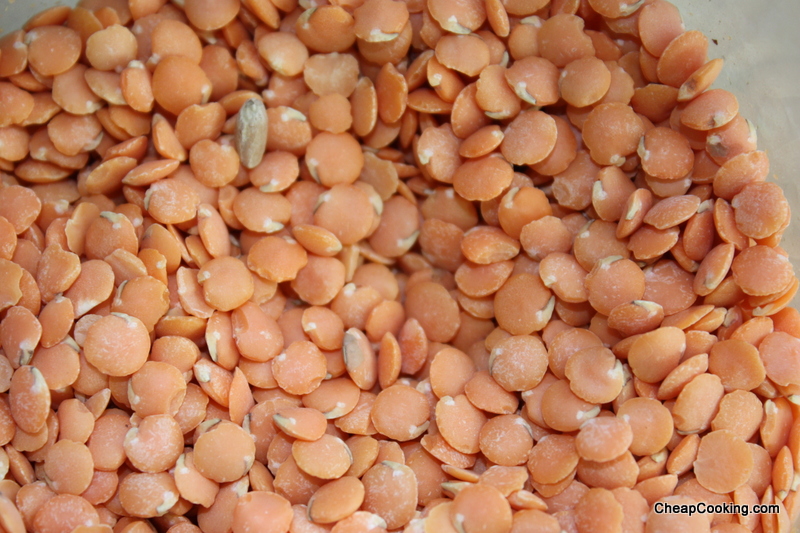 The other night I used some of the frozen curry base I made a little while ago and translated the UK recipe plus made a few changes, as I used canned coconut milk rather than coconut powder, which sounds cool but which I've never seen!
I wanted some other dish to go with the chicken curry and decided to try these red lentils with ginger from At Home with Madhur Jaffrey: Simple, Delectable Dishes from India, Pakistan, Bangladesh, and Sri Lanka
. (Note: That's an affiliate link and I'll make a small bit of change if you buy from Amazon after clicking through.)
My eldest is not such a fan of Indian food as my youngest so I opted to make this when she had other dinner plans.  When she came home, we were still watching the Olympics and I hadn't cleaned up yet.  She dished up some food and sat down to watch with us and said it was quite good! Leftovers were eaten for lunch by my youngest today.
Red Lentils with Ginger from Madhur Jaffrey
Ingredients
3

cloves

garlic

minced

1

tsp

grated fresh ginger

peel with the back of a teaspoon!

1

Tbs

ground coriander

1

tsp

ground cumin

1/4

tsp

cayenne pepper

1/4

tsp

ground turmeric

3

Tbs

oil

1/4

cup

chopped onions

1

cup

finely chopped tomatoes

1

cup

red lentils

rinsed and drained

3 1/2

cups

water

3/4

tsp

salt

3

Tbs

chopped fresh cilantro

1

Tbs

butter
Instructions
Mix the garlic, ginger, coriander, cumin, cayenne and turmeric in a small bowl and set aside.

Add the oil to a wide deep pan and turn the heat to medium. After it heats up, add the onions and cook, stirring, until starting to turn a deep color at the edges. Add the garlic spice mix and stir in, then cook another minute. Add the tomatoes and stir in and cook 3-5 minutes.

Add the lentils, water and salt and stir in. Bring to a boil, cover partially, turn heat down to low and cook about 45 minutes, stirring now and then and keeping at a low simmer. Take the lid off and cook another 5 minutes, stirring. Stir in the cilantro and butter.
I also made a quick cucumber dish. I'm growing cucumbers and we have lots to eat (but not quite enough to pickle). This also used some mint from my garden, so a double bonus. Just slice up some cucumbers, sprinkle with salt, black pepper and cayenne pepper, and stir in some lemon juice and fresh chopped mint.
Save