These Roast Zucchini and Tomatoes with Bread Crumbs aren't really stuffed, just topped with bread crumbs, herbs and cheese rather than stuffed with rice, chopped vegetables or meat. Soft vegetables like tomatoes I just lay the bread crumb mixture on top and bake until the vegetable is soft and the bread crumbs have crisped up a bit.  Other vegetables, like zucchini, I usually roast first, which I picked up from Ina Garten.
Preheat the oven to 425 while you prepare your vegetables.
Roast Zucchini
For zucchini, cut them in half lengthwise. I like to scrape out the small seeds and create a small  channel for the bread crumbs. Just use a spoon to scrape the seeds.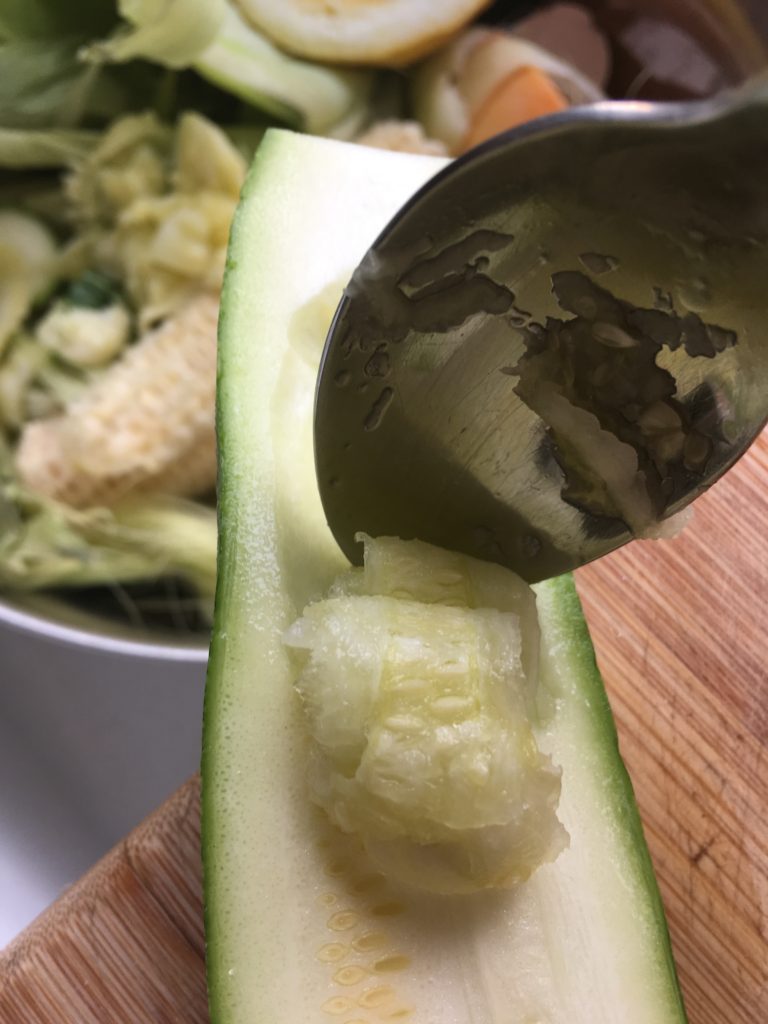 Put the zucchini on a tray with some parchment paper or foil underneath and rub with a bit of olive oil and season with salt and pepper. Put them cut side down and roast about 10-15 minutes for things like zucchini and onions.
Roast Tomatoes
For tomatoes, I just cut them in half and put the bread crumbs right on top. I don't usually cook them ahead of time, as I mentioned.
Bread Crumbs
I don't really measure the bread crumbs, which could be panko or homemade. (I usually have homemade ones in the freezer but the panko ones are really nice, too.) I try to guess about how many breadcrumbs I'll need based on how many vegetables I'm cooking. And if I plan on making more the next day, I'll mix up extra bread crumbs. One nice thing about preparing vegetables this way is that it's easy to cook for just one or two! Once I've put the bread crumbs in a small bowl, I then mince a clove or two of garlic and some fresh herbs like parsley and basil. Season with a bit of salt and pepper and some grated Parmesan cheese and mix them all up. Sometimes I add dried red peppers to the bread crumb mix.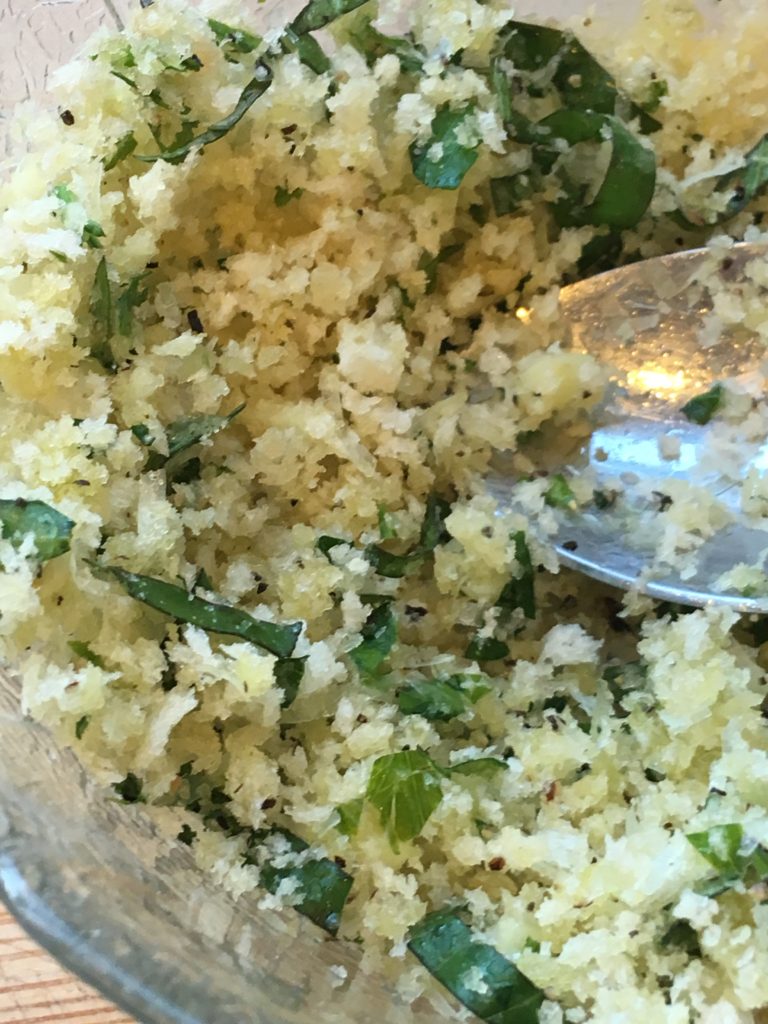 Finishing Off
When the zucchini are tender but still firm, take them out of the oven and flip them over. Put the bread crumb mixture on them or in them, add the tomatoes and top them with bread crumbs, then pop the pan back into the oven for another 5-10 minutes, until the bread crumbs are toasted.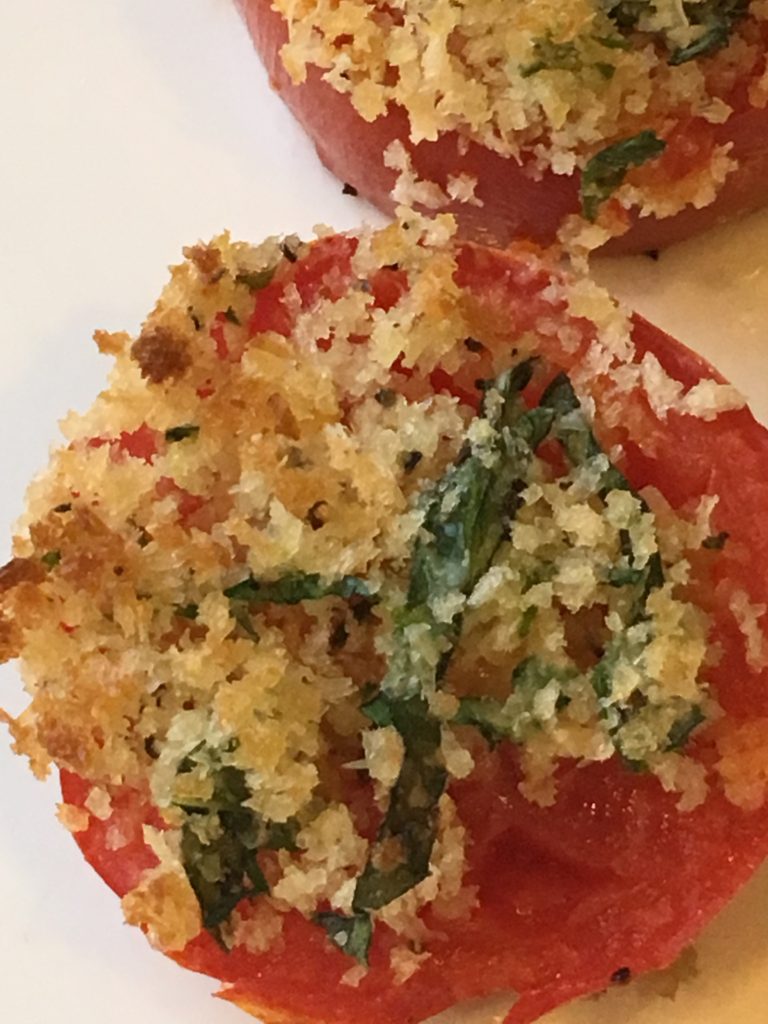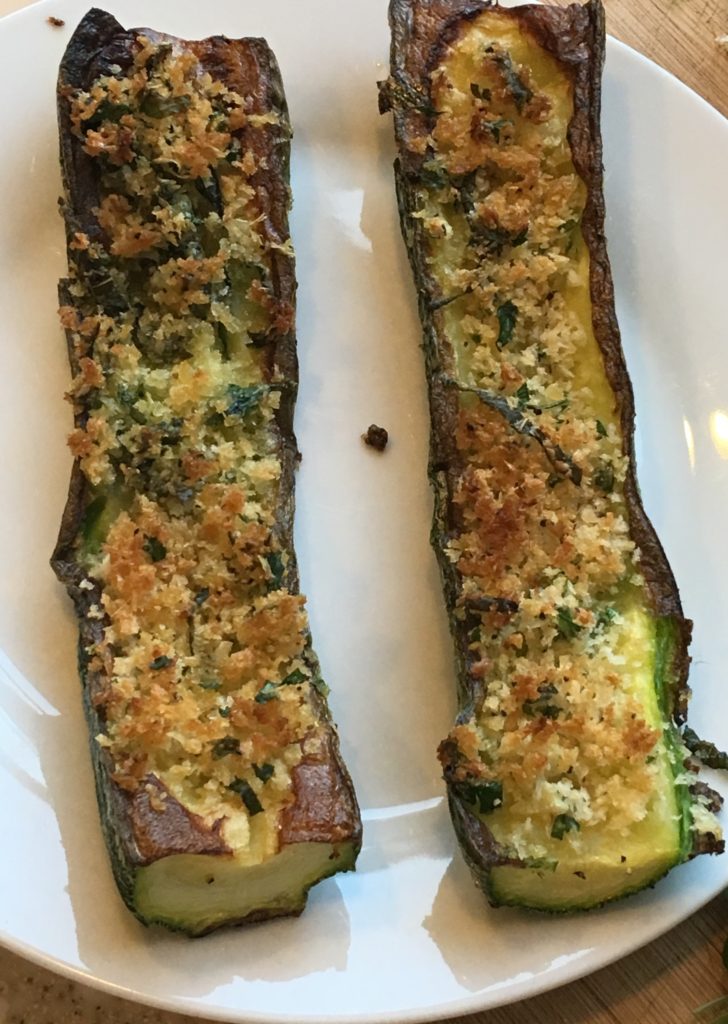 Sometimes I also slice white or yellow onions in thick slices and cook them the same way, cooking them first like the zucchini, then topping with the bread crumbs and cooking again.
These are good warm or at room temperature, making them a nice flexible side dish.