This Brussels Sprouts with Bacon is such a simple idea but really quite good. This is another recipe from Vegetables Every Day.
I've heard a lot of people say they don't like Brussels sprouts but when I ask it seems they haven't actually tried them! They just heard other people say things. We've always liked them and my youngest loves them!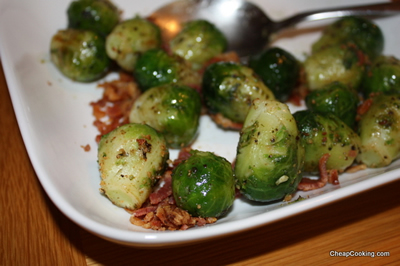 But give these a try even if you think you don't like Brussels sprouts. I also make them with apples and potatoes.
Brussels Sprouts with Bacon
Ingredients
1/2

pound

of Brussels sprouts

3

pieces

of bacon

pepper to taste
Instructions
Trim the ends and a few outer leaves off each of the sprouts. Bring a pot of water to boil and add the trimmed sprouts. Cook about 6-8 minutes, until tender, then drain.

Cook the bacon in a skillet, turning periodically. When it's done to your liking, put the bacon onto a paper towel to drain. Break or chop into small pieces.

Drain most of the bacon grease out of your skillet, then add the Brussels sprouts back in and cook a few minutes, stirring. Put in a serving dish and sprinkle the bacon pieces on top.