I had not thought of butternut squash as an Indian dish but I was browsing through The Indian Slow Cooker: 50 Healthy, Easy, Authentic Recipes and spotted this recipe. This was delicious!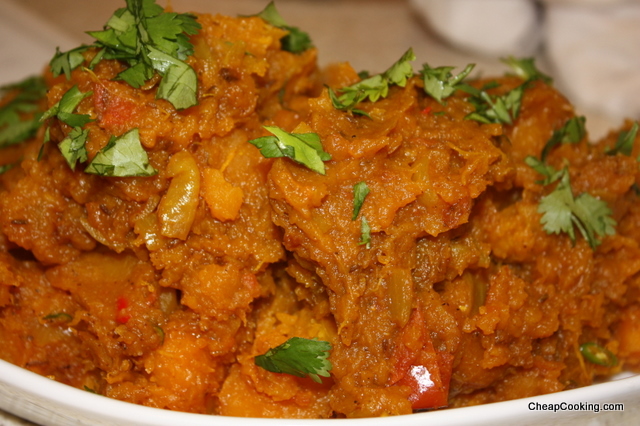 When I'm cooking Indian food for dinner I like having at least 2 dishes plus rice, and at least one of those dishes is usually vegetarian. Using the slow cooker for one of those dishes makes it so much easier! I really like this cookbook. She also has a blog here, Indian as Apple Pie.
I accidentally grew butternut squash this year. They were mislabeled at the nursery but my were they prolific! At first I thought it was just some odd-ball squash I hadn't seen before, green and white striped. And I ate lots when they were young. But one day I spotted one that had hidden from me and saw the shape and color and realized they were butternut squash! I now have 10 mature ones in the garage, hoping they keep. Kind of kills me to think how many we ate young! Oh well. I definitely have a year's supply if they'll keep. They are not small!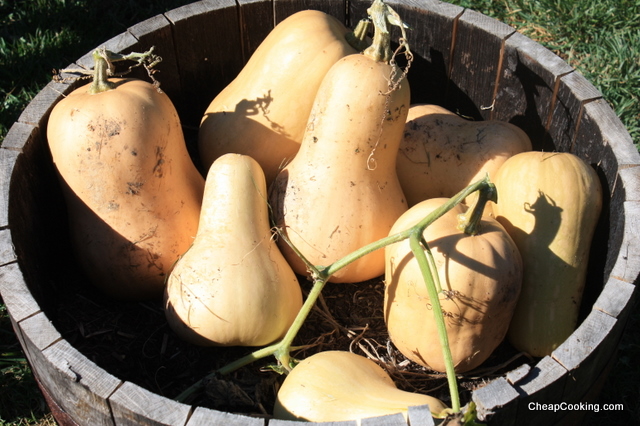 I didn't have any fenugreek seeds and didn't want to run out to an Indian grocer by the time I spotted this, so just omitted them. As a side note, spices are typically much cheaper at your ethnic stores if you have them nearby. I've also noticed that the ethnic sections of my local big chain have spices for much cheaper than they do in their "spice aisle." Look around! I just bought twice the amount of cumin seeds and coriander seeds for the same price as a small bottle. They came in a plastic bag rather than a glass bottle, but I just refilled the old bottle and tucked the extras away for later.
This was still really good even without the fenugreek and a nice compliment to the chicken biryani curry I made. I always like to make one "known good" dish with an experiment but this butternut squash now goes into the "known good" list!
Indian Butternut Squash
Ingredients
2

Tbs

vegetable oil

2

tsp

fenugreek seeds

which I skipped because I had none

2

tsp

cumin seeds

2

brown cardamom pods

these also make great Indian chai tea

1 2

" piece of cinnamon stick

yellow or red onion, peeled, halved, and thinly sliced

1 to

mato, diced

2

tsp

turmeric powder

1

tsp

ground coriander

1

butternut squash

about 4 pounds, peeled, seeded, and cut into 1″ cubes (about 8 cups)

2-4

green chilies

thai, serrano, or cayenne, seeded and thinly sliced (or leave in the seeds if you like it hot)

2

tsp

brown sugar

1

tsp

garam masala

2

tsp

salt

1

tsp

chili powder

1

Tbs

fresh lemon juice

1/4

cup

chopped cilantro leaves
Instructions
Heat the oil in a small saucepan over medium high heat and add the fenugreek seeds, cumin seeds, cardamom pods and cinnamon stick. Cook 3-4 minutes stirring constantly. Add the onion and cook another minute or so. You want the onion to be slightly browned but not burned! Watch it carefully.

Add the onion mix to the slow cooker and turn it on high.

Add the tomato, turmeric and coriander to the onion mix and stir it together, letting it cook a few minutes. Stir in the squash and cook a few more minutes.

Turn the slower cooker to low, cover and cook 4 hours, stirring now and then.

Add the chilies, brown sugar, garam masala, salt, chili powder and lemon juice and stir well. Turn into a serving dish and garnish with the cilantro leaves.
If you can't find garam masala in the grocery, you can use this as a substitute.
Garam Masala
Ingredients
1/2

tsp

cumin

1/2

tsp

paprika

1/4

tsp

cinnamon

1/4

tsp

cayenne pepper

1/4

tsp

crumbled bay leaves

1/8

tsp

ground cloves