I love broccolini and broccoli rabe, with pasta and sausage, on pizza, roasted as a side dish–pretty much anyway I've had it! This Pasta with Broccolini, Pancetta and Lemon Cream Sauce might be my new favorite.
I used to think broccolini and broccoli rabe were closely related but this explains that broccolini is a cross between broccoli and Chinese broccoli while broccoli rabe aka broccoli raab is closer to rapini, which I've grown and also like. Broccolini is more mild; broccoli rabe more bitter.
I was set to make a fairly standard pasta dish with some broccolini and pancetta instead of my usual Italian sausage for dinner the other night. Then I spied the lemons sitting on my counter, fresh from my lemon tree. I remembered a pasta dish with lemon and cream and thought I'd combine them.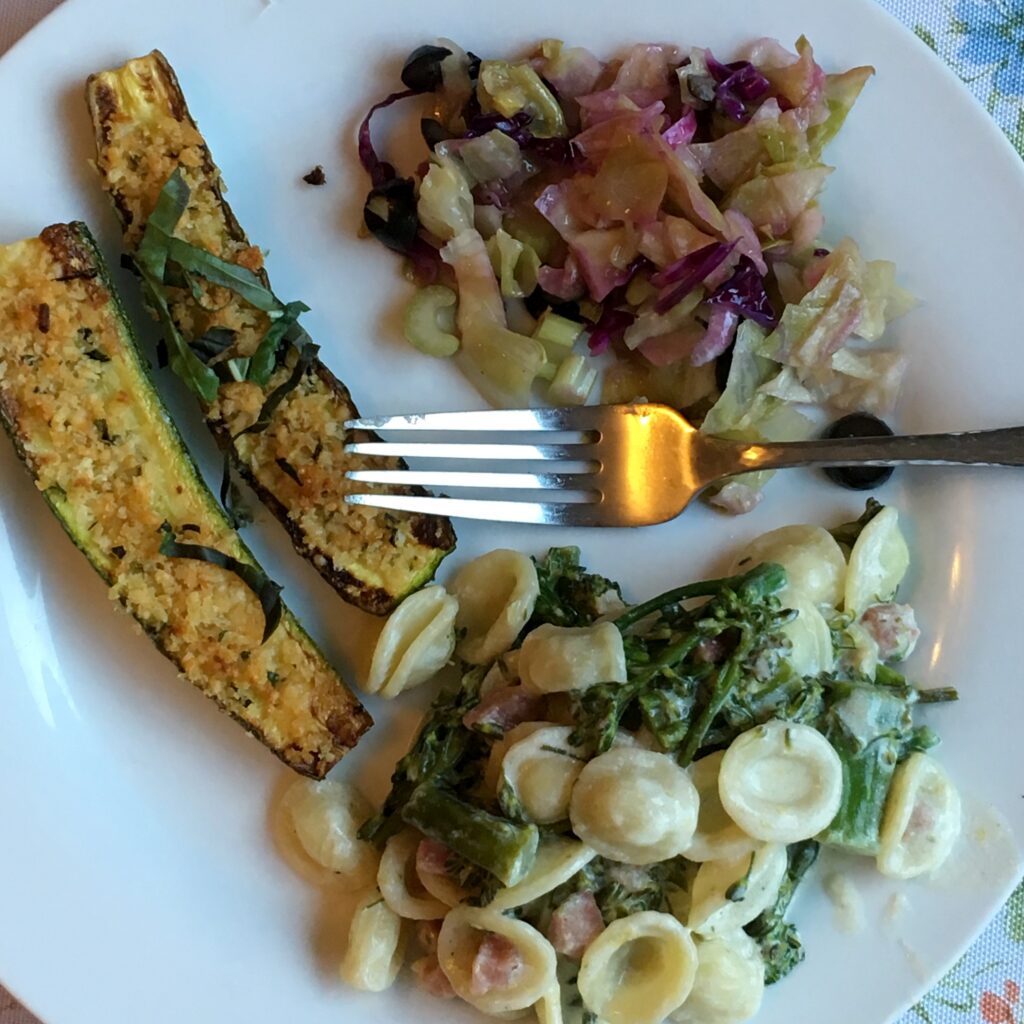 The original pasta with lemon and cream recipe, from Lidia Bastianich's Lidia Cooks from the Heart of Italy (Amazon) is really good. It calls for heavy cream but I used half and half the other night because that's all I had.
Blending these two recipes made a really good dish, a little rich with the cream, a little salty with the pancetta and the good earthiness of the broccolini. And of course, some grated Parmesan on top. Leftovers were equally good!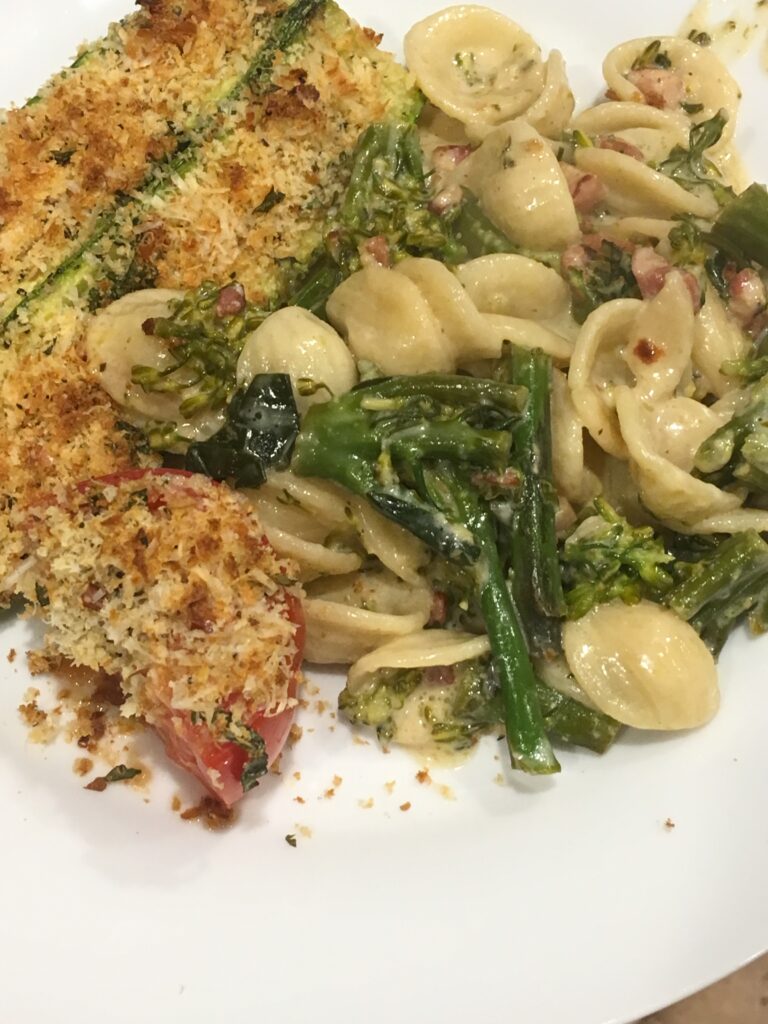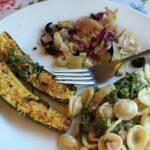 Print Recipe
Pasta with Broccolini, Pancetta and Lemon Cream Sauce
Ingredients
2

bunches

broccolini

1 1/2 pounds

1/2

pound

large pasta like orechiette or shells

olive oil

1/2

pound

pancetta, cut in 1/4" dice

2

cloves

garlic, peeled and minced

1

tsp

red pepper flakes

2

lemons, zest and juice (about 1/3 cup total juice)

1

cup

dry white wine

1

tsp

salt, plus more

1

cup

heavy cream or half and half

1

cup

grated Parmesan or pecorino, plus more for the table
Instructions
Bring a large pot of salted water to boil.

Trim the broccolini and cut into 2" pieces, including stems. Cook at a boil for 2-3 minutes, until just tender, Lift out the broccolini with a strainer or slotted spoon and drain, leaving the water boiling. Stir in the pasta and cook until done according to package directions. Reserve a cup or so of pasta water and drain the pasta.

While the pasta is cooking, heat a few glugs of olive oil in a skillet and cook the diced pancetta until browned, stirring occasionally, about 8 minutes. Add the garlic and cook another minute, then stir in the red pepper flakes and lemon zest. Let sizzle a minute.

Stir in the wine and lemon juice. Simmer a few minutes. Slowly whisk in the cream and cook until it reduces to a thickness you like. If it gets to thick, you can stir in some of the reserved pasta water.

Add the drained broccolini and pasta to the pancetta and sauce, along with a teaspoon so of salt and some pepper to taste. Stir in the cup of grated Parmesan and drizzle olive oil over the pasta.

Serve with more grated cheese at the table.
The zucchini shown on the side are baked, then topped with a garlicky bread crumb mixture and baked again. The recipe is here.