Periodically, potatoes go on sale around here for as cheap as .89 for a 10 pound bag. I've heard they get cheaper elsewhere but that's about the lowest I've ever seen them here. Cooking with bulk ingredients like potatoes can be challenge. With some flexible ideas about how and when to serve them so they're not always the same and by preparing a few dishes for the freezer if you're inclined, you can make quick and thrifty work out of that bag in no time.
How Do You Store Potatoes?
If you're just keeping them for a few days, almost anywhere is fine. For longer-term storage, potatoes store well at cool room temperatures in a well ventilated container, out of direct light. A pantry, a unheated spare room, a cupboard or even your garage all work. The container could be a perforated bag, a cardboard box, a wire basket, etc. Don't store them in the refrigerator. You can read more details about ideal home potato storage in this University of Idaho research paper. Don't store them next to onions, as gases from the onions can cause the potatoes to sprout faster. (Sprouted potatoes are safe to eat. Just remove the sprouts first.)
Can You Freeze Potatoes?
No, you cannot just freeze potatoes without doing something to them, or they will turn black and ugly. You can peel and dice and slice and parboil (cook for a few minutes), or make soup or twice baked potatoes or just mashed potatoes. The mashed potatoes can be a bit runny when you thaw them out, but just heat them up and stir and they'll be fine. If you boil up the potatoes for mashing, save the water for soups.
Potato Side Dishes
Baked Potatoes – First, of course, the simple but delicious baked potato. Scrub, prick with a fork or small paring knife a few times, and bake at 400 for about an hour. If you've got something else in the oven at a slightly different temperature, potatoes are flexible! Just bake them for a bit longer or less and keep an eye on them. If you're in a hurry, you can microwave them until they're soft when you squeeze them. If you like crispy skins but are in a hurry, microwave until almost done, and then pop them into the oven at 400 for 10 minutes or so. Serve with some chili over the top for a complete meal.
Twice Baked Potatoes – These are great either for dinner the same night if you're energetic but they're also a great side dish to have in the freezer. Bake the potatoes. While they're still warm, cut in half lengthwise, scoop out the white part and mash them up with butter, milk, and either sour cream or yogurt, some cheddar cheese if you'd like, some ham if you'd like. Put the mashed potato back into the shell and top with a bit of extra shredded cheddar cheese. Either put back in the oven and bake for another 20-30 minutes or wrap them up and freeze them.
Sauteed Potatoes -One of personal favorites for breakfast or dinner. Peel (if you like) and dice the raw potatoes. Cook up in bacon grease until done if you're feeling sinful. For a healthier alternative cook them up in a bit of olive oil or a mixture of olive oil and butter. Add some diced onion and green pepper if you'd like. Use leftover baked potatoes for these as well.
Oven Fried Potatoes – Healthier than deep-fried French fries, and easier besides–how can you lose! Get creative with the herbs and spices you put on them. These go great with something as simple as hamburgers and hot dogs. I also do something very similar with chunks of potatoes rather than taking the time to cut them into strips.
Bubble and Squeak -I loved the name and loved the dish: mashed potatoes and cabbage. The kids ate it but weren't overly thrilled. Still, a good way to get some cabbage in them. Serve with sausage or hot dogs.
Potato Pancakes – One of my kids' all-time favorites. We also served them with applesauce but after attending a Hanukkah at a friend's house, I added sour cream to the table. For an easy cheap filling dinner, this is it. If you need something more substantial, we like some kielbasa with it.
Hasselback Potatoes aka Accordion Potatoes – Slice the potatoes not quite all the way through before baking.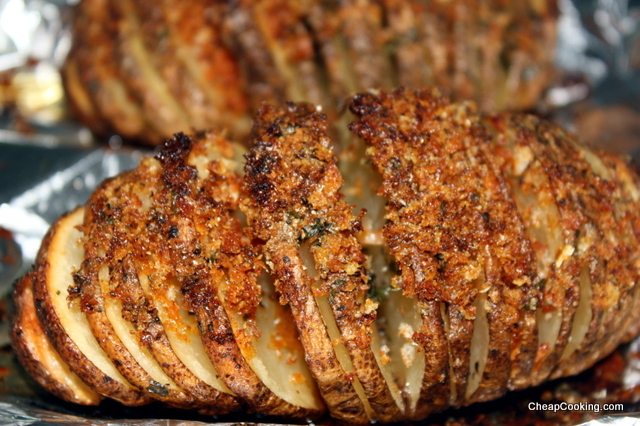 Potato Soups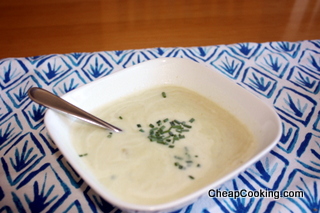 Leftover Potatoes
Baked Potatoes become Quick Fried Potatoes -If you have leftover baked potatoes, you can make quick fried potatoes for breakfast by dicing them and sauteing in a bit of bacon grease or olive oil and butter. You can also fry them up and make breakfast burritos and eat them now or freeze the burritos for later.
Mashed Potatoes become Potato Croquettes – These are so good you may want to mash extra potatoes on purpose so you can make the croquettes for dinner a day or two later. You can also stir leftover mashed potatoes into soups to thicken them up.
Potato Skins become an Appetizer – Peeling potatoes for soups or mashing? Don't throw them away. Sprinkle with some seasonings and a bit of cheese and bake until crisp.
Main Dishes with Potatoes
Shepherd's Pie -Sometimes I use the pre-cooked boiled ground beef for this and it makes a quick dinner. I've read that technically a shepherd's pie should be made from minced lamb, but growing up we made it with ground beef. It's basically browned and seasoned ground beef, with or without some corn or peas, topped with mashed potatoes and baked.
Layered Casserole -I've seen variations of this all over the place in various community cookbooks. Layers of sliced potatoes, ground beef, carrots, rice, an onion, and tomatoes. Very delicious and very easy.

Baked Rosti Casserole with Eggs – This recipes serves 2 but can easily be doubled. Shredded potatoes mixed with cheese and yogurt are baked, then you top with two eggs and bake just until the eggs are set the way you like them.
Chicken Quarters and Cheesy Potatoes Wedges -Scrub the potatoes and cut in fourths length-wise. Dip in melted butter, roll in seasoned bread crumbs, and bake. Delicious and great to bake with a chicken or something that takes about the same amount of time.
Lentils and Potato Curry -This is a delicious vegetarian curry of lentils and potatoes.
Baked Potatoes topped with chile or any variety of leftover stew make a quick main dish.

Save